a
World Navy Force News - Mexico / USA / Europe
EADS North America delivers first CN235 Maritime Patrol Aircraft to Mexico under U.S. FMS
EADS North America has delivered the first of four Airbus Military CN235-300 Maritime Patrol Aircraft (MPA) it will supply to the Mexican Navy. The program is a foreign military sales contract managed by the U.S. Coast Guard. The Coast Guard uses a configuration of this same twin-engine aircraft – the HC-144A Ocean Sentry – for its own patrol, surveillance, transport and disaster relief mission duties.

This is the first U.S. foreign military sale for the highly successful CN235 tactical airlifter family produced by Airbus Military, a business unit of EADS. Under the $157.6 million order, EADS North America will also supply spares provisioning, ground support equipment and associated training.

"This airframe is performing exceptionally in a wide range of missions for the U.S. Coast Guard, and we're proud to serve our country's national interests by supporting the Mexican Navy with a great capability as well," said Sean O'Keefe, EADS North America CEO.

The new CN235-300 MPAs will further strengthen Mexico's ability to support the Mérida Initiative, a cooperative security arrangement between the U.S., Mexico and Central American countries. Duties for the new aircraft include homeland security, search and rescue, military readiness, cargo and personnel transport, drug interdiction and maritime environmental protection.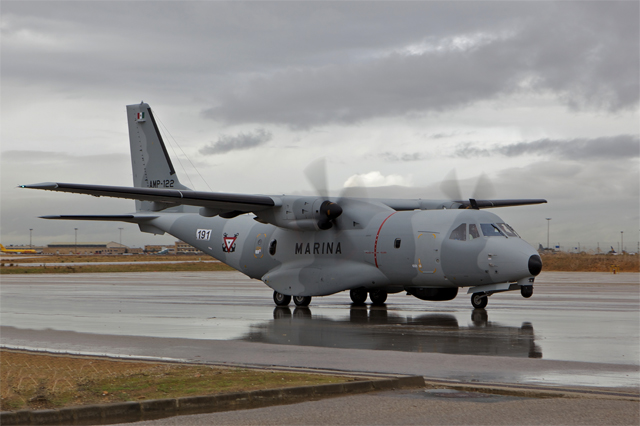 Mexican Navy CN235-300 Maritime Patrol Aircraft (MPA)
(picture: EADS North America)

More than 200 Airbus Military CN235s are in operation within 20 countries today. EADS North America has delivered 12 CN235-300s to the U.S. Coast Guard in the HC-144A Ocean Sentry configuration. The service plans to acquire a total of 36 to gradually replace its aging HU-25 Guardian fleet.

This CN235 in MPA configuration incorporates the latest technology developed for surveillance over the sea. The combination of a Forward Looking Infra Red (FLIR) system and search radar allows the aircraft to locate and track ships to conduct thorough patrols of a coastline. The Automatic Identification System (AIS) and the Fully Integrated Tactical System (FITS) help make this aircraft the ideal tool to carry out military surveillance missions for the Mexican Navy. The FITS was developed by Airbus Military and ensures that the extensive data gathered by the aircraft's on-board sensors can be easily used by the crew to execute their mission.
Source: EADS press release