a
World Navy Force News - India
Indian Coast Guard launches tender for 16 choppers for anti-terror role
New Delhi: The Indian Coast Guard has floated a global tender worth over USD 200 million to procure 16 light helicopters to be deployed on its warships for preventing any 26/11 type attack. "The global Request for Proposal (RFP) for procuring these choppers was issued a couple of months ago and companies have been asked to submit their bids by December," a Defence Ministry official told a news agency

The RFP has been sent to three companies - Eurocopter, AgustaWestland and Sikorsky, they said. Eurocopter is planning to field its twin-engined Panther helicopter.

According to the RFP, the Coast Guard wants these choppers to be equipped with surveillance devices to carry out search and rescue roles in coastal areas, they said.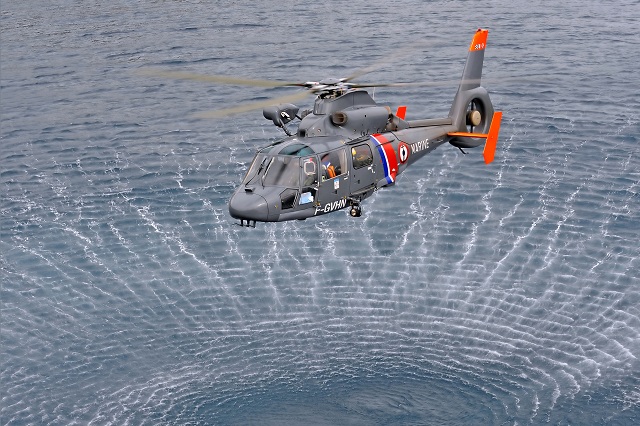 French Navy Eurocopter Panther
(Picture: Eurocopter)

The procurement is part of Coast Guard's efforts to enhance its capabilities to tackle terrorism and other threats emanating from the sea.

Deployment of the choppers on offshore patrol vessels and other large-size ships of the Coast Guard will help in expanding its reach in the maritime zone to locate suspicious boats and other vessels, they said.

The choppers will also have light and medium machine guns on board.

To revamp the coastal security mechanism post 26/11, the government had sanctioned several fast-track acquisitions of equipment worth thousands of crores rupees, like fast attack craft, patrolling vessels, Dornier surveillance aircraft, helicopters and coastal radars.