a
Naval Defense Industry News - UK
Royal Navy heralds Thales 2087 and Flash sonars as "the most potent of any navy"

The Royal Navy has described how the combination of a Type 23 frigate fitted with Thales UK's Sonar 2087 and a Merlin helicopter equipped with the Thales FLASH dipping sonar has delivered an outstanding anti-submarine warfare capability.

HMS Northumberland, sailing as part of the UK's Response Force Task Group on the Cougar 12 Mediterranean deployment, recently conducted advanced anti-submarine warfare (ASW) training with a friendly submarine.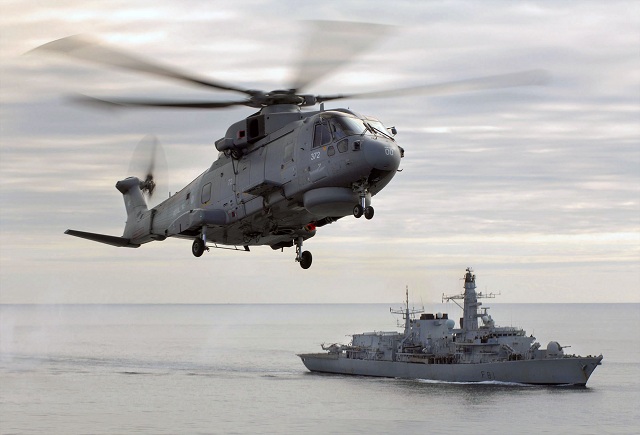 A Merlin helicopter from HMS Ark Royal hovers in the foreground whilst the Duke Class Type 23 Frigate HMS Sutherland, sails past behind.
(Picture: Crown Copyright/MoD )
The exercise involved the ASW surface ships trying to 'sink' the hunter-killer submarines, while simultaneously trying to avoid being sunk by their stealthy submariner counterparts.

Northumberland is one of eight Type 23 ships fitted with Sonar 2087, a towed array system that enables frigates to hunt the latest submarines at considerable distances and locate them beyond the range from which they can launch an attack.

Type 23 frigates also carry the Merlin helicopter that is fitted with the Thales FLASH dipping sonar. The combination of 2087 and FLASH makes the Type 23 a formidable antisubmarine warfare operator.

Northumberland's Commanding Officer Commander Paddy Dowsett said: "The opportunity to conduct extended and realistic training against a submarine has been most welcome."

"It reinforced the view that a Type 23 frigate such as Northumberland, fitted with Sonar 2087 and a Merlin helicopter, remains the most potent anti-submarine warfare platform of any navy at sea today."

Phil Naybour, head of Thales UK's naval business said: "Once again, the combination of Sonar 2087 and FLASH sonar has proved to be a phenomenal anti-submarine warfare asset to the Royal Navy. We are proud to be such a key sensor supplier to the Royal Navy."

The eighth and final Type 23 to be fitted with the system, HMS Portland, has been undergoing an extensive refit at Rosyth dockyard that included the installation of Sonar 2087.

The 2087 system is a low-frequency active sonar, consisting of both active and passive sonar arrays. The system is manufactured at Thales sites in the UK (Cheadle Heath in Manchester and Templecombe in Somerset) and France (Brest).