a
Naval Forces News - Japan
Japan lays keel for 22DDH Helicopter Carrier
A keel-laying ceremony for the first 22DDH helicopter carrier for the Japan Maritime Self-Defence Force (JMSDF) was held at IHI Marine United's (IHIMU's) Yokohama on 27 January 2012. Japan already has two helicopter carriers -- the Hyuga deployed in March 2009 and the Ise deployed in March 2011 -- but the new vessel will be larger.

The 22DDH is scheduled for deployment in 2015. It will be 248 m long and cost around US$1.04 billion. It is 30 percent bigger than the Ise and can carry 14 helicopters. The Ise measures 197 m, has a displacement of 13,500 tons and can carry 11 helicopters.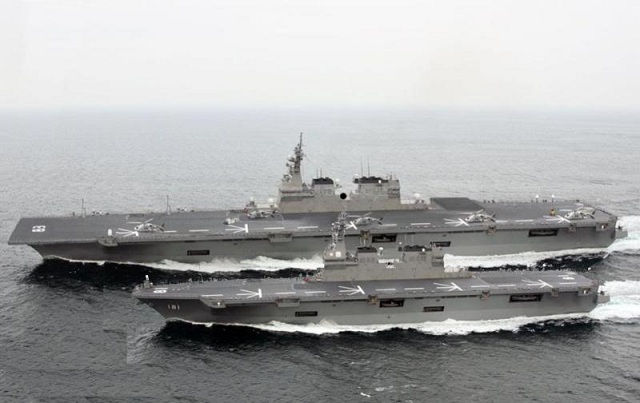 Artist impression of the future 19,500 tons 22DDH next to the existing 13,500 tons Hyuga class
(source: Internet)
The Japanese vessel will be equipped with the latest U.S. weapons systems to maximize its capability. It will be equipped with the Raytheon air and missile defense systems. The new carrier will house mainly helicopters designed for anti-submarine warfare operations.
There are increasing calls within Japan to modify the 22DDH for fighter jets. But critics say it would be unrealistic to build such an aircraft carrier since its navy has only 45,000 personnel and given the current budget constraints.

General characteristics
Displacement: 19,500 tonnes empty
27,000 tons full load
Length: 248.0 m
Beam: 38.0 m
Speed: 30 knots
Complement: 970 (crew and troops)
Aircraft carried: up to 14 helicopters