a
World Naval Forces News - India / Russia
Leased Nerpa (K-152 of Project 971 "Shchuka-B") nuclear sub to arrive in India in late March.
The nuclear-powered submarine leased from Russia for ten year, will arrive in India in late March, a source close to the Indian Ministry of Defense, told Itar-Tass.

The submarine will arrive in the town of Visakhapatnam on March 30-31, the course underlined. After being handed over to the Indian Navy, it would be commissioned as INS Chakra.

The cost of the contract of lease is estimated at 650 to 900 million dollars. The Indian Navy called the submarine the Chakra. It was the name of the first atomic attack submarine India received from the former Soviet Union on three-year lease in 1988.

The Indian Navy plans to use this nuclear submarine for training personnel, and equip it with the Club-C system, intended for destroying ground targets, as well as with the newest torpedoes which are already in the arsenal of 14 Indian Kilo-class diesel electric submarines.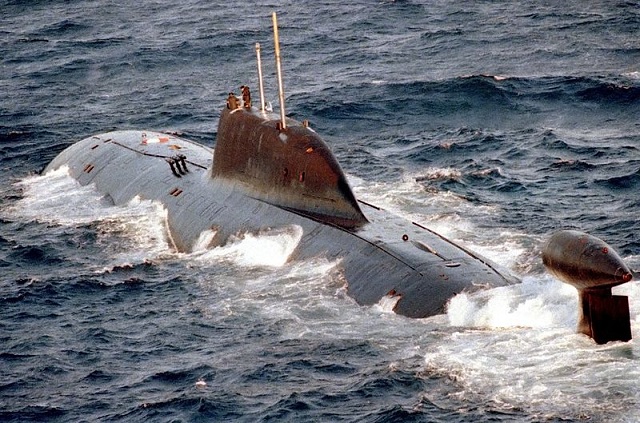 Russian Navy K-322 Cachalot, Akula class submarine underway. INS Chakra will be of the same class
(picture: US DOD)
The Nerpa /K-152 of Project 971 "Shchuka-B"/ is a third generation Russian nuclear powered submarine. Its construction was launched at the Amur shipyard in Komsomolsk-on-Amur in 1991, but the funding was suspended in the middle of 1990s. The project was carried through thanks to investments from India.

Following are some basic characteristics: displacement - 12.7 tons, maximum diving depth - 600 meters, and cruising capacity - 100 days. It is armed with cruise missiles, torpedoes, and rocket-boosted torpedoes. It has a crew of more than 80.