a
Naval Industry News - India, France
DCNS India delivers to MDL the first locally produced Scorpene submarines equipments
The delivery, managed by DCNS India, was achieved on time, meeting all the stringent quality standards required for on-board use on a submarine (100% quality compliance).

The shipyard Mazagon Dock Limited (MDL) has received the first Indian made equipment for the Scorpene submarines programme (P75). MDL has congratulated this successful industrial performance during the recently held Government to Government (G2G) meeting between India and France.

MDL is producing six SSK Scorpene submarines (P75) under transfer of technology (ToT) from DCNS. Simultaneously, DCNS India*, DCNS Group's subsidiary in India, is working at the selection and qualification of Indian companies as partners for local production of the Scorpenes' equipments.

In June 2011, DCNS India has signed a contract with Flash Forge India Pvt. Ltd. under the Scorpene submarines programme (P75). "We are providing our Indian partners with know-how and technical assistance to manufacture equipments which will be installed onboard the Scorpenes. Together with MDL, we are qualifying the suitable companies which are meeting the rigorous specifications needed for the submarines", reminded Bernard Buisson, Managing Director of DCNS India.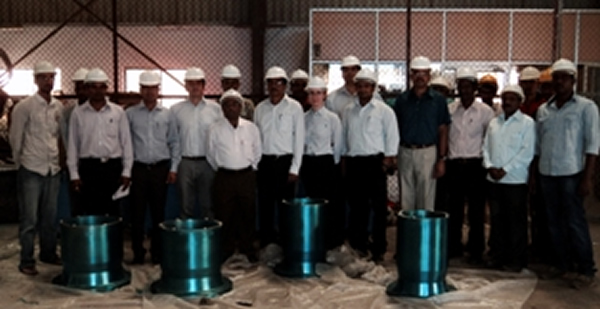 The first locally made Scorpenes' equipment (for the large scale piping system)
(Picture: DCNS)

The Factory Acceptance Test (FAT) for the first locally made Scorpenes' equipment (for the large scale piping system) was successfully performed at Flash Forge premises in Vishakapatnam in January 2012.

The success of the manufacture and delivery of this first indigenisation contract with Flash Forge India Pvt. Ltd. is the culmination of a long and stringent process, involving:
• Preliminary audits of the manufacturing and quality processes, performed by experts from DCNS France;
• Certification of the prototypes to three different laboratories, including a DCNS laboratory for Naval Material and Structures, in order to validate the good manufacturing of the equipment;
• Frequent interactions between Flash Forge and DCNS teams during the manufacturing process.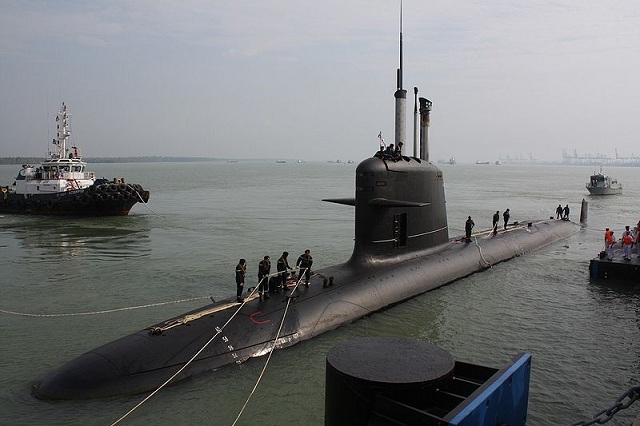 Scorpene class submarine, Royal Malaysian Navy
(Picture: Mak Hon Keong)

This delivery is especially significant since the quality of each equipment onboard submarines contribute to the overall safety of the crew on board and of the ship performance. Flash Forge has already proven experiences in forgings and pipe fittings with MDL and other Indian shipyards. Today, through the participation in the P75 Scorpene submarines, higher standards of qualifications have been achieved.

Bernard Buisson said, "Given the relative small quantities of each material to be manufactured, DCNS is looking for long term partnerships. And each potential industrial partner needs to demonstrate a willingness to invest in the required specific infrastructure development. We are very pleased with commitment shown by Flash Forge".

The same comprehensive selection method is under way for other equipments and more contracts with Indian partners will be announced shortly.

* DCNS India Private Limited was inaugurated in March 2009 in Mumbai. It is specialising in naval services. DCNS India's main missions are to support the naval shipyards and industries (Naval Technical Advice Department), to develop local services with Indian talents (Design & Marine Engineering Department), to achieve localized production with large base industrial partners (Programme Department) and to extend sourcing opportunities for both local and international needs (Sourcing & Purchasing Department).