a
Naval Industry News - UK
Thales and ASV to develop Unmanned Minewarfare Vehicle
London, 3 July 2012 - Thales UK has signed a contract with Autonomous Surface Vehicles Ltd (ASV Ltd) to develop a re-configurable Unmanned Surface Vehicle (USV) to meet the challenges of future off-board Mine Countermeasures (MCM) operations.

The vessel has been jointly designed to meet a number of key requirements and drivers:
· Deployable from military platforms, craft of opportunity and from shore/harbour
· Air transportable
· Payload flexibility for all MCM systems – unmanned underwater vehicles, towed sonar,
disposal systems, minesweeping
· Stable platform with excellent slow speed and towing capabilities
· Highly reliable & cost effective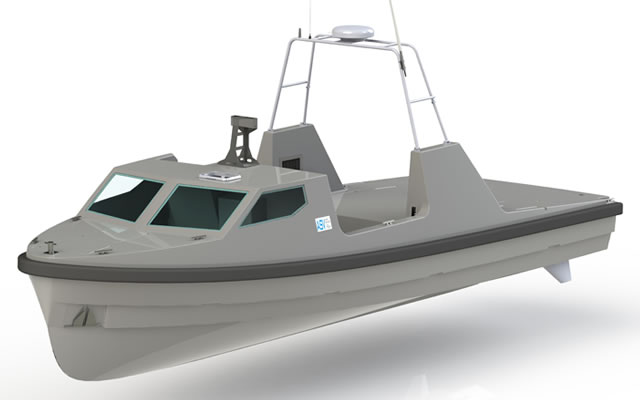 The low signature USV, which is 11.5m in length and 3.6m in beam, will have a maximum
speed of around 25 knots. The vehicle is now under construction and will be undergoing
acceptance trials later this year. A series of payload trials will be conducted from early 2013
onwards, drawing on experience gained in previous off-board system programmes.
(Picture: ©ASV)
ASV Ltd is a UK company and part of Global Fusion, a privately owned international marine services group. Formed in 1998, ASV Ltd provides rugged, reliable and effective unmanned systems using cutting edge marine technology from its operating base near Portsmouth.

Dan Hook, Managing Director at ASV, in welcoming this contract says: "We are pleased to be developing such an advanced capability with Thales UK and are confident in the system's performance for the wide range of roles."

Phil Naybour, head of Thales UK's naval business, says: "As the MCM capability integrator of over half the world's in-service fleet of minehunters, Thales brings many years of experience and understanding of mine warfare operations alongside world-class sensors and systems. "As we head into an era that heralds a step change in the delivery of mine warfare, moving from dedicated MCMVs to off-board systems and sensors, Thales's extensive capabilities in mission system integration are being brought to bear."

"The Unmanned Surface Vehicle will be central to the success of these new concepts of operation in mine warfare; being able to demonstrate and de-risk both the vehicle and its potential payloads is a clear benefit to both our customers and ourselves. We welcome the news of this contract signature with ASV as it represents a critical step towards the delivery of future off-board MCM capability."