a
Naval Industry News - France
DCNS design innovations contribute to success of first operations by Gowind OPV L'Adroit
Gowind® offshore patrol vessel L'Adroit returned to her homeport of Toulon on 29 June 2012 after a two-month mission in the Mediterranean. DCNS has made the ship available to the French Navy for three years. The client Navies, in turn, is using the ship primarily for government missions at sea. During this fisheries protection and maritime safety & security mission, the L'Adroit demonstrated the quality of DCNS's design and technological innovations.

Thanks largely to key advances – not least aft boat ramps, a panoramic bridge, a single enclosed mast, and the Polaris® smart mission system – OPV L'Adroit carried out her assigned missions, including operation Thon Rouge to police bluefin tuna fisheries.

The operational capabilities of this entry-level Gowind® OPV give potential customers an idea of the family's considerable potential. Using the aft ramps, crew members can covertly launch high-speed boats in less than 2 minutes while officers monitor operations from the panoramic bridge. The Gowind® family benefits directly from DCNS's vast experience in IT and command information systems and can be readily tailored for extended area surveillance and the automatic detection of suspicious behaviour by ships and other craft.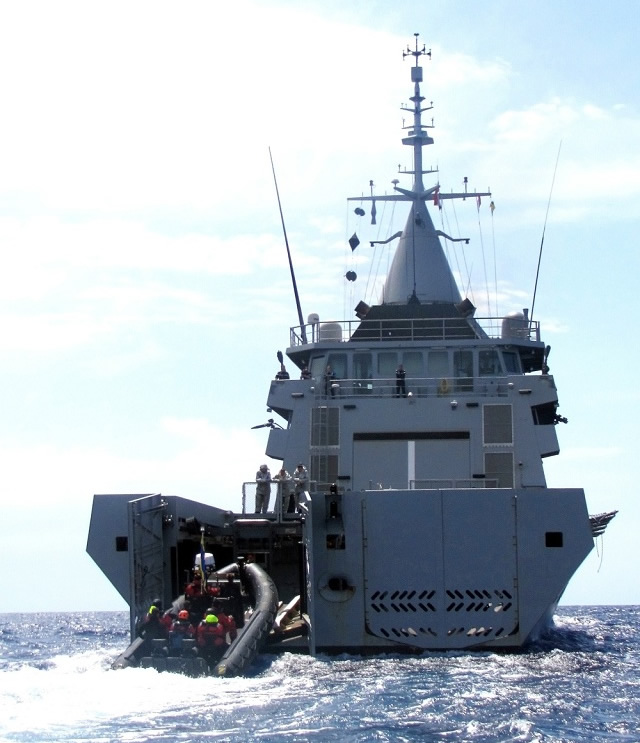 L'Adroit, Gowind class Offshore Patrol Vessel (OPV)
(Picture: DCNS)
By demonstrating OPV L'Adroit's qualities, the Navy will help DCNS to win the coveted 'sea proven' seal of approval attested by a world-class navy that international customers seek when reviewing a new design's innovations and efficiency.

"In the course of our mission, the crew inspected no fewer than 22 fishing vessels and reported five violations of international regulations. Working closely with other fisheries protection forces, our ship contributed to ensuring compliance with the authorised fishing quotas for 2012 and recently reinforced regulations," says Commander Sacha Bailly.

(Video: DCNS)
OPV L'Adroit will remain at Toulon naval base while DCNS teams and crew members carry out routine inspections and maintenance. In September, she will set off on an extended mission that will take in South Africa. With two crews working four-month rotations, OPV L'Adroit's inherently high reliability is expected to ensure an at-sea availability of 220 days per year.

"We are pleased with the feedback we've received from the crew following OPV L'Adroit's different operational missions to date. Our design appears well-suited to the emerging needs of client navies. Indeed, several have expressed interest and entered into discussions with DCNS," says Gowind programme manager Marc Maynard.

Above and beyond the satisfaction of contributing to the nation's naval assets to combat emerging maritime safety & security challenges, the decision to make OPV L'Adroit available to the French Navy gives DCNS an excellent opportunity to promote its expertise on the international stage. The success already achieved suggests that the Group's strategy to win a larger share of the growing markets for small- and medium-displacement surface ships is on track.

Innovative by design

With a length overall of 87 metres, OPV L'Adroit offers three weeks' blue-water endurance, a range of 8,000 nautical miles and a top speed of 21 knots. The design includes full provision for an organic helicopter and UAVs (unmanned aerial vehicles), crewing by a complement of 30 and accommodation for 30 passengers.

Innovations and capabilities of special interest to navies, coast guards and commando forces include a panoramic bridge offering 360° visibility, a single enclosed mast offering 360° sensor visibility, covert RIB deployment in less than 2 minutes and full provision for UAVs and USVs (unmanned surface vehicles). The Gowind family also benefits from DCNS's extensive experience in command information systems. These vessels can be readily tailored for extended area surveillance and, when working in conjunction with shore-based control centres and other networked ships, for the automatic detection of suspicious behaviour by ships and other craft.