a
Naval Forces News - Australia
Royal Australian Navy Hobart Class destroyers AN/SPY-1D(V) phased array radar arrive in Adelaide
Minister for Defence Materiel Jason Clare announced the arrival in Adelaide of the first two state of the art 'SPY' radar array faces that will be installed on the Air Warfare Destroyers (AWDs). "The multi-function SPY radar is capable of search, automatic detection, tracking of air and surface targets and missile engagement support," Mr Clare said.

"It works to distinguish signals from stationary or moving targets and to identify and reject 'clutter' such as clouds and flocks of birds."

The AN/SPY-1D(V) phased array radar will provide the Hobart Class destroyers with comprehensive surveillance around the ship.

The SPY radar is the main sensor for the Aegis Weapon System and is readily recognisable by the four octagonal-shaped array faces that are located on the superstructure of the ship.

The four array faces send out beams of electromagnetic energy in all directions, providing a continuous search and tracking capability for hundreds of targets.

The SPY radar, combined with the SPQ-9B horizon search radar, will ensure each of the AWDs go into service with state-of-the-art radar packages.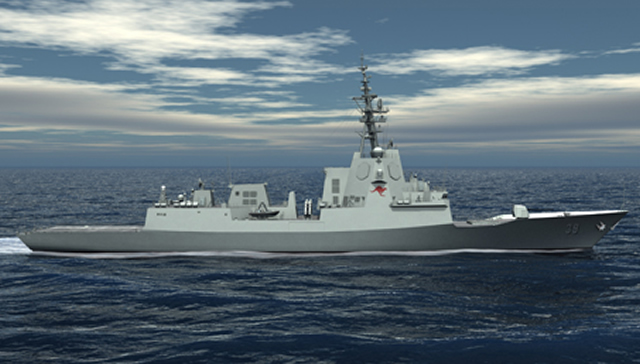 HOBART class Air Warfare Destroyer for the Royal Australian Navy
(Image: AWD Alliance)
"Work on the future HMAS Hobart and HMAS Brisbane is well underway at Techport Australia, and work on the future HMAS Sydney will commence later this year," Mr Clare said.

"All three AWDs will be armed with a 48 cell Vertical Launch System, Mk 45 5? gun, phalanx close-in weapon system, torpedoes, anti-ship harpoon missiles, Nulka missile decoy system and hull mounted sonar, as well as variable depth sonar for detection and defence against enemy submarines and torpedoes."

"This gives each destroyer an air defence, anti-submarine and anti-surface warfare capability as well as the ability to embark a helicopter at sea."

The AWDs will provide greater protection for Australian Defence Force personnel by providing air defence for accompanying ships as well as land forces and infrastructure on nearby coastal areas. The AWDs will also provide self-protection against attacking missiles and aircraft.

The AN/SPY-1D (V) radar was supplied by United States company Lockheed Martin and acquired by the Australian Government through the Foreign Military Sales program.

Source: Australian Department of Defence