a
Naval Forces News - China
China's refitted aircraft carrier sails off for month long sea trial, possibly involving air operations
Chinas's refitted aircraft carrier has sailed out from Dalian port for its longest sea trial to date: It will last 25 days. Shenyang J-15 fighters may be involved in this sea trial which would make it a first.

"The longest sea trials indicate the aircraft carrier has finished the first step of tests on the ship itself and is beginning tests of aircraft landing and takeoff," military analyst Yin Zhuo, a retired major general, said yesterday.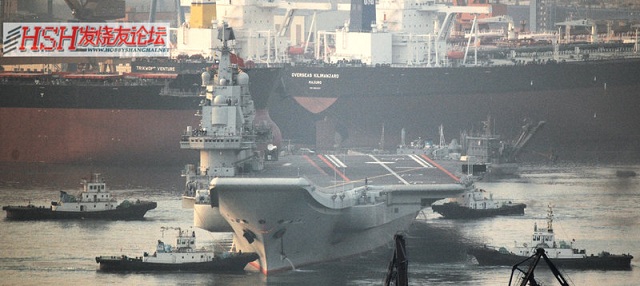 Ex- Varyag in Dalian port
It will take a long time for Chinese fighter pilots to train to land on the aircraft carrier, which is the most difficult step during training, said Hu Siyuan, a professor with the National Defense University PLA China.
"The pilots have to use the best direction, height and speed to land on the 60-meter-wide aircraft carrier and also need to prepare to abort the landing and ascend again for any emergency, which are great challenges mentally and physically," Hu said.

The Shenyang J-15 is a carrier-based fighter aircraft currently in development by the Shenyang Aircraft Corporation and the 601 Institute for the PLAN's (Chinese Navy) future aircraft carriers.

While the J-15 is based on Russian-designed Sukhoi Su-33, it is reported to share a large portions of electronics and avionics with the J-11.

Some photographs taken by Dalian residents living near the port showed J-15s with wings folded and at least one helicopter on the carrier's deck. As we reported however, these were only mock ups used to train the crew in handling fighters on the carrier deck.