a
Naval Forces News - Iran
Iran unveils new "Oghab" Maritime Patrol Aircraft based on Antonov An-140
Iranian aircraft manufacturing company HESA in Isfahan has unveiled the first unit of a basic Maritime Patrol Aircraft named "Oghab". The new MPA is based on the locally produced IrAn-140 which is a licensed version of the Antonov An-140.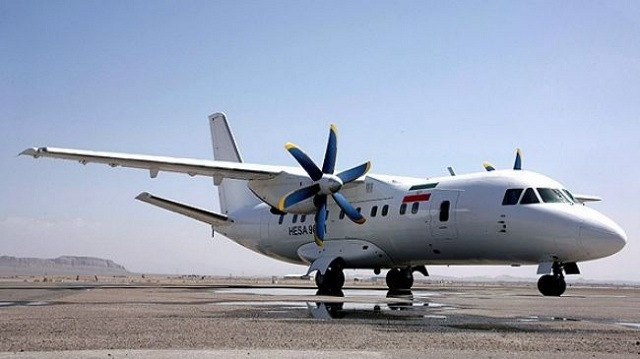 The Oghab, Iran New Maritime Patrol Aircraft
Oghab Maritime Patrol Aircraft basic specifications:

Base platform: HESA IrAn-140 (Antonov An-140)
Length: 22.60 m (74 ft 2 in)
Wingspan: 24.505 m (80 ft 5 in)
Height: 8.23 m (27 ft 0 in)
Wing area: 51 m² (549 ft²)
Empty weight: 12,810 kg (28,240 lb)
Max. takeoff weight: 19,150 kg (42,220 lb)
Powerplant: 2 × Klimov TV3-117VMA-SBM1 turboprops, 1,838 kW (2,466 shp) each

Performance:

Maximum speed: 575 km/h (310 knots, 357 mph)
Cruise speed: 460 (250 knots, 290 mi)
Range: 1380 km / 2420 km (745 nm, 860 mi / 1307 nm, 1504 mi)
Ferry range: 3,680 km (1,990 nm, 2,290 mi)
Service ceiling: 7600 m (25,000 ft)
Rate of climb: 6.83 m/s (1,345 ft/min)

Data from Antonov for An-140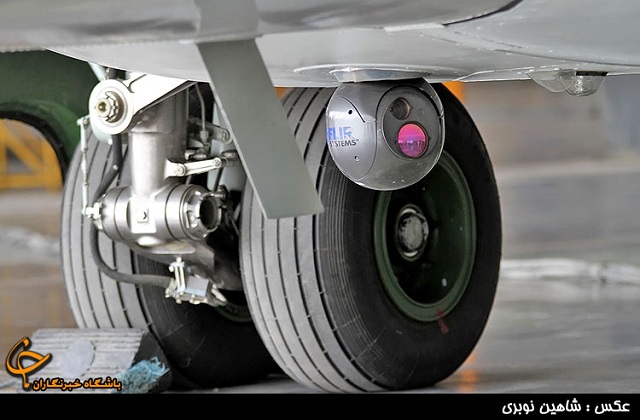 The Oghab is equipped with a FLIR Systems Ultra8500 optronic sensor
The Oghab is equipped with a Ultra8500 optronic sensor by FLIR Systems found between the two main landing gear struts. The Ultra8500 is gyro-stabilized, comes with 450 mm of optical IR zoom, auto tracker and optional laser pointer.

A search radar is reportedly installed in the nose of the aircraft as well as a radar wave receiver. submarine detection system and pollution detection system.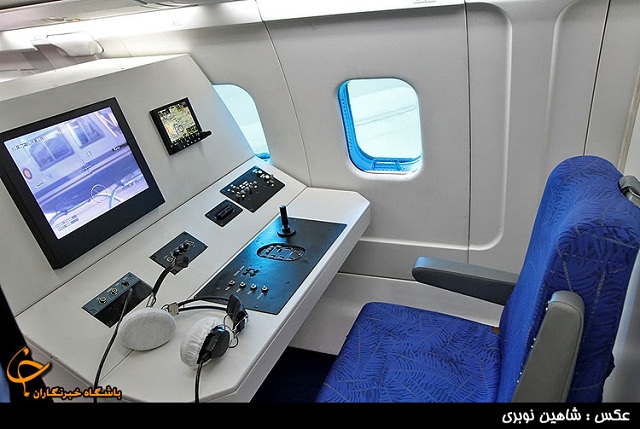 Oghab systems operator workstation
HESA will eventually offer four variants of the Oghab. (HMS-100; HMS-200; HMS-400; HMS-500) The one that has just been unveiled is reported to be the "HMS-200" variant and doesn't have any offensive capabilities. Other versions will sports submarine detection systems, pollution detection system and offensive weapons such as torpedoes and anti-ship missiles according to models showcased in the past by HESA.
Oghab variants specifities
"The marine patrol aircraft [...] which have been designed and produced based on all international standards are shining examples that sanctions have failed to prevent progress," said Iranian Defense Minister Brigadier General Ahmad Vahidi on Monday.

He added, considering the country's demands, the marine patrol aircraft has been designed and manufactured by Iranian experts with capabilities equivalent to the most advanced planes in the world, IRNA reported.

Vahidi said only some countries have the expertise to build the 20-25 ton marine patrol aircraft and emphasized that the indigenous plane is among such type.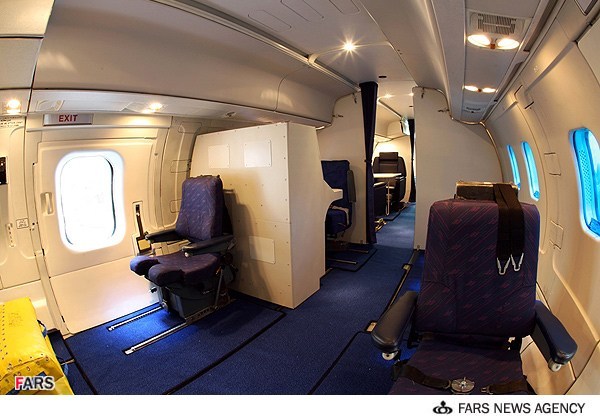 HESA Oghab MPA interior