a
Naval Industry News - Russia
Russian Navy Future Large amphibious assault ship Project 11711 "Ivan Gren" launched in the water
May 18, 2012 at JSC "Baltic Shipyard Yantar" in Kaliningrad, a new large landing ship for the Russian Navy was floated out following an official ceremony. Project 11711 large landing ship of the new generation was designed in the late eighties and nineties. Russian Ministry of Defense April 1, 2004 issued the contract to build Project 11711. The ship's completion is expected by 2013. Plans to build three more ships of the same class are under consideration.

Project 11711 Ivan Gren Large Amphibious Assault Ship
After 2010 the project has undergone major changes to simplify and reduce the cost, including the abandonment of much of originally planned armament and electronic means. Currently, delivery of "Ivan Gren" is scheduled for 2013 with the introduction of the Baltic Fleet. However, the subject reports that the Russian Navy will be classified as "Ivan Gren" not as large landing ship, and as a military transport.

According to the Acting Director General of the factory "Yantar" Alexander Konovalov, the construction of "Ivan Gren" has already requested over 8 billion rubles. With some amount of money still to be spent on its completion and delivery, along with relevant tests, Konovalov said.

The $160-million vessel has a displacement of about 6,000 tons and will be able to carry up to 13 main battle tanks or 36 armored personnel carriers or 300 naval infantry troops.

Along with Mistral-class amphibious ships being built in France, Ivan Gren class ships will form the core of the Russian Navy's landing forces.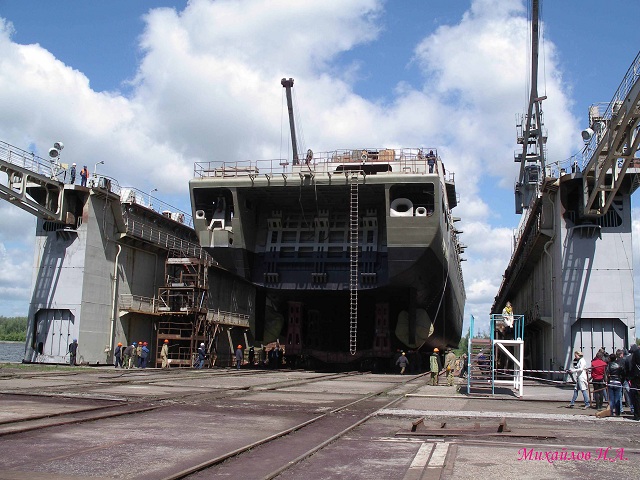 Project 11711 Ivan Gren Large Amphibious Assault Ship