a
Naval Industry News - USA
Lockheed Martin's Aegis Computer Program Development Approved by U.S. Navy for Australian Warfare Destroyer
Lockheed Martin [NYSE: LMT] has completed computer program development and testing for the HOBART class Air Warfare Destroyer (AWD), the Royal Australian Navy's Aegis-equipped ships. The computer programs have been approved by the U.S. Navy.

Tests were conducted over a two-week period at the Navy's land-based test facility, the Vice Admiral James H. Doyle Combat Systems Engineering Development Site in New Jersey.

"The Aegis Weapon System enables navies around the world to protect their citizens and their nations from continuously evolving threats," said Doug Wilhelm, director of international Aegis programs for Lockheed Martin's Mission Systems & Sensors business. "We look forward to working with the U.S and allied navies to continue to provide proven anti-air warfare capability on a global scale."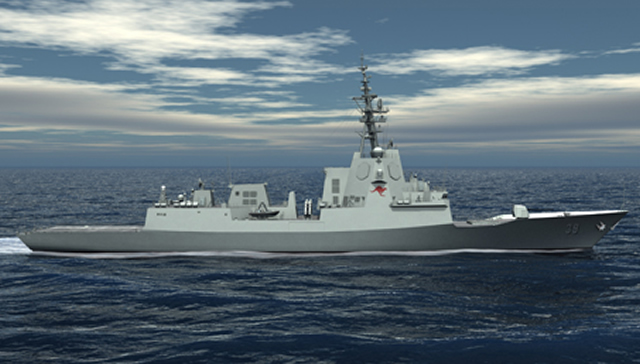 HOBART class Air Warfare Destroyer for the Royal Australian Navy
(Image: AWD Alliance)
The HOBART class will be capable of simultaneous operations in a multi-warfare environment, including anti-air, anti-surface, anti-submarine and naval gunfire support roles.

Lockheed Martin is a leader in combat systems integration and the development of integrated air and missile defense systems and technologies. Manufacturing work for this program will occur in Moorestown, N.J.

In addition to the U.S. and Australian navies, Aegis is also the weapon system for the navies of Japan, Norway, the Republic of Korea and Spain. The 100 Aegis-equipped ships in service around the globe have more than 1,250 years of at-sea operational experience and have launched more than 3,800 missiles in tests and real-world operations.