a
Naval Force News - Russia
Third Project 20380, Steregushchy class stealth corvette, Boiky Passes Systems Trials
Russia's newest corvette, the
Project 20380 Steregushchy class stealth corvette
Boiky has successfully completed main systems tests in its initial sea trials, fleet spokesman Captain Second Rank Vladimir Matveyev said on Thursday.
"Our newest corvette, the Boiky, built by Severny Verf for the Baltic Fleet, successfully completed first stage builder's sea trials in a training area in the Baltic," he said.
The 2,100 ton displacement vessel was manned by a mixed crew of navy personnel and civilian workers for the trials, which began in early October.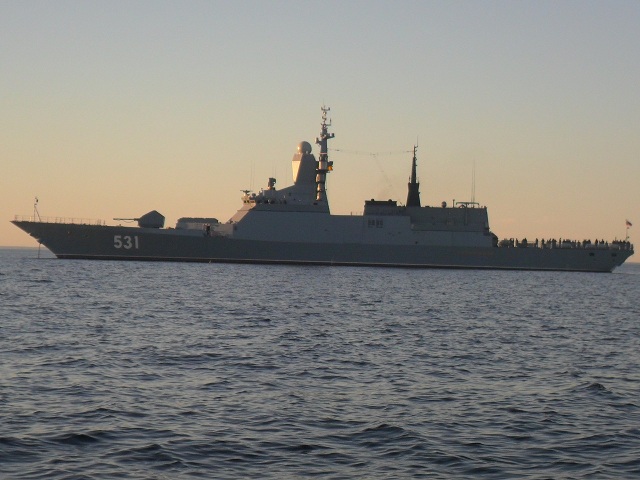 Project 20380 stealth corvette Soobrazitelny, second ship of the class
(picture: Internet)
Link to Project 20380 Steregushchy class corvette datasheet
"The trials included testing of the power plant, steering, navigation and communications equipment, mooring gear, back-up systems and tests of the ship's maximum speed, maneuverability and vibration levels," Matveyev said.
The ship will soon return to the shipyard to have its 100-mm gun installed, he added, after which it will sail to the port of Baltysk for second-stage trials.
"Shipyard testing should be completed in December, after which the crew will put it through state acceptance trials," he said.
Severny Verf is due to build six of the 20380 and 20385 classes for the Russian Navy by 2018, and six larger 22350 class frigates by 2020.
The 20380 class, designed by the Almaz naval design bureau, are optimised for anti-submarine and anti-surface warfare and support for land operations. The class incorporates stealth technology, which has considerably reduced its radar and infra-red signatures.
The 20380 class can be equipped with Kh-35 anti-ship missiles and 3M54 Klub cruise missiles,
Kashtan anti-aircraft gun/missile systems
, a main 100-mm gun, two 30-mm close-range air defense guns, and torpedo tubes, according to naval-technology.com. It also has a hangar and deck for operation of a Kamov Ka-27 anti-submarine warfare helicopter, and is fitted with a Vinyetka-EM towed-array sonar.