a
Naval Forces News - Russia
Russian Navy to buy L-CAT/EDA-R landing catamarans from France for Mistral class LHD
Russian Ambassador in Paris, Alexandre Orlov, Announced on Friday 23rd 2012 that Russia will be purchasing the L-CAT fast amphibious landing craft (dubbed EDA-R for "engin de débarquement amphibie rapide" by the French Navy) to be used with the Russian Navy's future
Mistral class LHDs.

CNIM's L-CAT, named EDA-R in French Navy service
(picture: CNIM)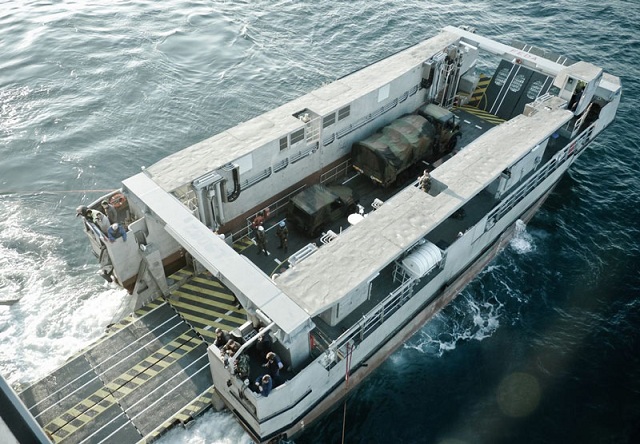 EDA-R
(picture: French Navy)
"We signed a contract on the purchase of two Mistral class ships. The first is already under construction in Saint-Nazaire, the second will follow. We also discussed the construction of two Mistral LHDs in Saint-Petersburg, Russia. Everything is on schedule. There are also additional contracts. We will buy small french boats that will be aboard the Mistral LHDs, they are landing catamarans, "said the ambassador to reporters.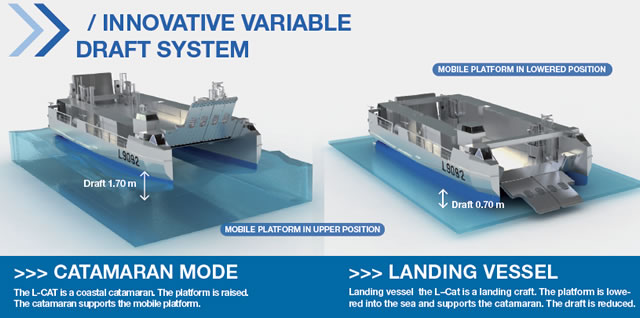 The L-CAT variable draft system explained
(picture: CNIM)
Designed to land troops and military vehicles from an over-the-horizon amphibious vessel (30 nautical miles/55 km), the L-CAT can be used for humanitarian operations in areas lacking port infrastructures. With a length of 30 meters and a width of 12 meters, the L-CAT has a payload of 80 tons with a speed of 18 knots fully loaded and 30 knots when empty. Its doors at the front and rear simplify the loading and unloading of vehicles.
Russia and France signed an agreement in June 2011 for the construction of two
Mistral class BPC
for the Russian Navy. The first ship of the class will be named "Sevastopol" and the second, "Vladivostok". Both ships to be built by DCNS at STX shipyards of Saint-Nazaire.
The hulls of the third and fourth Mistral-type vessels purchased by Moscow will be built in Russia.
Click here to learn more on L-CAT fast amphibious landing craft