a
Naval Forces News - USA
US Navy Commissions USS Michael Murphy, latest destroyer of Arleigh-Burke class, in New York City
USS Michael Murphy (DDG 112), the Navy's newest guided-missile destroyer, was commissioned during a formal ceremony at pier 88 in Manhattan, Oct. 6. The newest destroyer honors Lt. (SEAL) Michael P. Murphy, a New York native who was posthumously awarded the Medal of Honor for his heroic actions during Operation Red Wings in Afghanistan, June 28, 2005.

Thousands of spectators, veterans and invited guests gathered in front of the ship to witness the ceremony, which included distinguished guests such as the Mayor of New York, the Honorable Michael Bloomberg, Chief of Naval Operations (CNO), Adm. Jonathan Greenert and Adm. William McRaven, commander, U.S. Special Operations Command.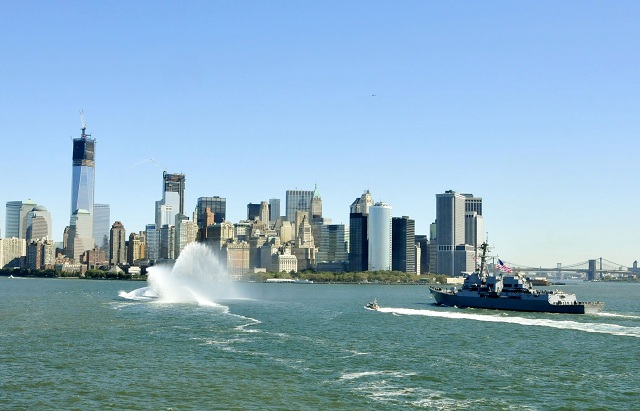 USS Michael Murphy (DDG 112) arrives in New York city
(Picture: US Navy)
The Secretary of the Navy, the Honorable Ray Mabus, delivered the principal address and spoke of the ship, her crew and her namesake's heroic actions.

"This ship honors the courage, service and sacrifice of Lt. Michael Murphy, his Red Wings brothers, fellow SEALs, special operators and service members around the world who answer the call of duty every day," said Mabus. "It is absolutely fitting that the USS Michael Murphy bears a SEAL trident on her crest because, much like Michael and every Navy SEAL who has earned the honor of wearing the trident, this ship is designed to counter threats from above and below the surface of the oceans, in the air and on land."

Greenert reflected on the ship's massive power and ability to protect our nation's freedom.

"USS Michael Murphy, the most flexible, lethal and multi-mission capable ship of its kind, represents the backbone of our surface combatant fleet," Greenert said. "It is one of the best destroyers in the world. This ship will operate forward around the globe, assuring allies, projecting power and defending our nation. And, like its namesake, Lt. Michael Murphy, this ship will serve to protect, influence and win in an era of uncertainty."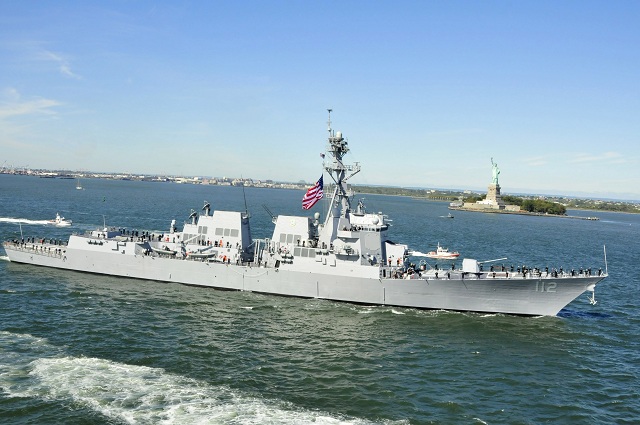 USS Michael Murphy (DDG 112)
(Picture: US Navy)
At the conclusion of the remarks, Murphy's mother and ship's sponsor Maureen Murphy gave the order to, "man our ship and bring her to life!"

The crew responded by saying "Aye, Aye, Ma'am" and began to double time up the brows to man the ship as the Navy band played "Anchors Aweigh." Crewmembers stood side by side, manning the rails as the ship's systems came online. Radars, weapon systems, and other parts of the ship began moving to symbolize her "coming to life."

Cmdr. Thomas E. Shultz, a native of El Cajon, Calif., is the commanding officer of the ship and will lead the crew of 279 officers and enlisted personnel. The 9,200-ton Michael Murphy was built by General Dynamics Bath Iron Works. The ship is the 62nd ship in the Arleigh Burke class of Navy destroyers and the last of its class. It is 509 feet in length, has a waterline beam of 59 feet, and has a navigational draft of 31 feet.

The commissioning was the culmination of a week-long celebration in New York City honoring the ship, her crew and the legacy of Lt. (SEAL) Michael P. Murphy. The ship will be homeported in Pearl Harbor, Hawaii.

By Mass Communication Specialist 2nd Class John Scorza, Naval Surfaces Forces Public Affairs