a
Naval Industry News - UK, Brazil
Brazilian Navy AMAZONAS, first of three BAE Systems built Ocean Patrol Vessels, Arrives in Rio
AMAZONAS, the first of three BAE Systems built Ocean Patrol Vessels being delivered to the Brazilian Navy, has arrived in her home port of Rio de Janeiro for the first time after eight weeks at sea.

Following her departure from Portsmouth in August, AMAZONAS has undertaken an intense programme of trials as well as a series of diplomatic visits in Europe and Africa during her 5000 mile journey. Arriving in Brazil mid-September, AMAZONAS has visited a number of ports including Natal, Salvador and Arraial do Cabo before arriving in Rio yesterday.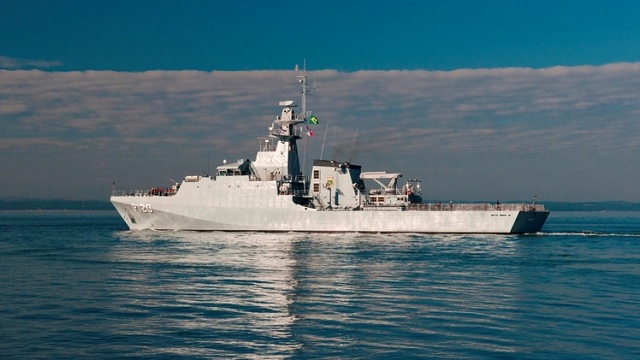 Marinha do Brasil AMAZONAS Ocean Patrol Vessel
(Picture: BAE Systems)
Nigel Stewart, Commercial Director of BAE Systems Maritime, said: "As the newest addition to the Navy's fleet, the arrival of AMAZONAS in Brazil marks yet another significant and exciting stage in the programme. As we work to deliver the second and third ships, we look forward to building on the close-working relationship we are forming with the Brazilian Navy and hope it is the beginning of a long-term partnership."

AMAZONAS and her crew will now undergo an operational assessment before joining the Brazilian fleet. They will then take part in further sea training with the Comissão de Inspeção e Assessoria de Adestramento (Commission for Inspecting and Advising Procedures), which is designed to further ensure the ship is ready to begin her role of maritime safety and security, search and rescue, and humanitarian relief operations.

First of class, AMAZONAS, was constructed at BAE Systems' Portsmouth facility while her sister ships, APA and ARAGUARI, were built at the company's Scotstoun shipyard on the Clyde. Second of class, APA, will be handed over to the Brazilian Navy in November, with ARAGUARI expected to be delivered in April 2013. Eleven members of the Brazilian Navy are currently in Portsmouth to oversee the delivery of the remaining two vessels and were joined by the crew of the second ship this week.

The arrival of AMAZONAS comes only nine months after the £133 million contract for the supply of three Ocean Patrol Vessels and ancillary support services was signed. As part of the agreement, BAE Systems is providing crew training in areas such as seamanship, electronics and propulsion. The contract also includes a manufacturing licence to enable further vessels of the same class to be constructed in Brazil, helping to support the country's naval re-equipment programme and strengthen its maritime industrial capability.

The Ocean Patrol Vessels will provide Brazil with enhanced maritime capability. With a 30mm cannon and two 25mm guns, as well as two rigid inflatable boats and a helicopter flight deck capable of landing a medium-sized helicopter, the ships are ideal for performing maritime security in Brazil's territorial waters, including the protection of the country's oil and gas reserves. The vessels accommodate a crew of 80, with additional accommodation for 40 embarked troops or passengers and ample deck space for container storage.