a
Naval Defense Industry News - USA
Austal lays Jackson (LCS 6) Keel, Third Independence-variant Littoral Combat Ship (LCS)
Austal held a keel-laying ceremony today for the third
Independence-variant Littoral Combat Ship (LCS)
– Jackson (LCS 6), one of five Austal-designed 127-metre US Navy Independence-variant Littoral Combat Ships under contract with the US Navy. Dr. Katherine Holmes Cochran, the ship's sponsor, was present to weld her initials onto the keel plate as the Keel Authenticator. She was assisted by J.B. Craig, III, who is an "A" Class welder that has been part of the Austal team since November of 2011.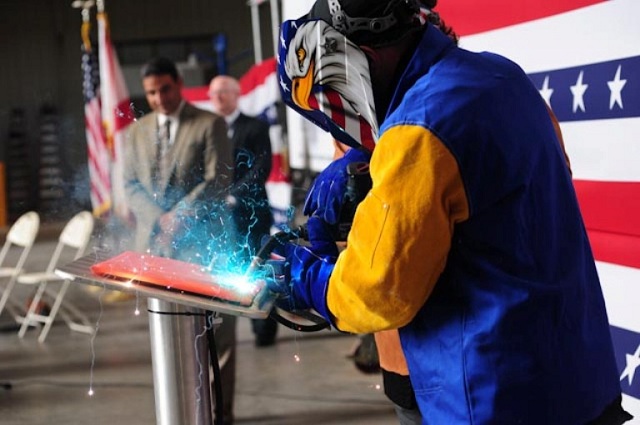 (picture: Austal)
Dr. Cochran is the daughter of US Senator Thad Cochran (R-Miss.) and his wife Rose Clayton Cochran. She was born in Jackson, Miss., and received her Ph.D. in English from the University of Mississippi. She is currently an associate professor at the University of Southern Mississippi where she directs the English Licensure Program, works with the South Mississippi Writing Project, and teaches courses in southern literature. In 1991, Dr. Cochran served as the maid of honor as her mother sponsored the USS Barry (DDG 52).

Senator Cochran is a native of Pontotoc, Miss., and is currently serving his sixth term in office as a US Senator. After graduating from the University of Mississippi, he was commissioned an Ensign in the U.S. Naval Reserve. He served on USS Macon, a heavy cruiser, and became the ship's legal officer after graduating as an honor student from the US Navy School of Justice in Newport, Rhode Island. He also taught military law and naval orientation at the Officer Candidate School in Newport at which time he was promoted to the rank of Lieutenant in the US Naval Reserve. Senator Cochran is a member of the Defense Appropriations Subcommittee where he has worked successfully to support the Navy's shipbuilding programs.

A traditional keel-laying ceremony marks the first significant milestone in the construction of the ship. Due to Austal's modular approach to ship manufacture, 35 of the 37 modules used to form this 127-metre aluminum trimaran design are already being assembled. For Austal, keel-laying marks the beginning of final assembly. Four modules have been moved from Austal's Module Manufacturing Facility (MMF), three of which are erected in the final assembly bay in their pre-launch position. The rest will follow over the coming months.
USS Independence LCS-2 (picture: General Dynamics)
Link to Independence class LCS datasheet and picture
s
"Jackson (LCS 6) is the first of ten Independence-variant Littoral Combat Ships awarded by the Navy to Austal as prime contractor," stated Craig Perciavalle, Austal USA's Senior Vice President of Operations.

"It is exciting to see our most recent facility additions come to life, with this ship being the first constructed utilizing Phase 2 of our Module Manufacturing Facility and the first ship assembled in our new Assembly Bay 5. None of this would be possible without the hard work of the great employees of Austal USA."

Austal USA is a full-service shipyard offering design, construction and high-speed vessel service and repair. As Austal USA continues to expand its service and repair capabilities, the company is well positioned for new business with engineering, test and trials capabilities, and a new waterfront facility on the Mobile Bay waterfront.

Austal is currently under contract with the U.S. Navy to build nine 103-metre Joint High Speed Vessels (JHSVs) under a 10-ship, US$1.6 billion contract and five 127-metre Independence-variant LCS class ships, four of which are a part of a 10-ship, US$3.5 billion contract.

For the LCS and JHSV programs, Austal, as prime contractor, is teamed with General Dynamics Advanced Information Systems, a business unit of General Dynamics. As the ship systems integrator, General Dynamics is responsible for the design, integration and testing of the ship's electronic systems including the combat system, networks, and seaframe control. General Dynamics' proven open architecture approach allows for affordable and efficient capability growth as technologies develop.

These two contracts will require Austal to increase its Mobile, Ala. workforce to approximately 4,000 employees in order to fulfill the contract requirements.

"With almost ten percent of these workers expected to reside in the neighboring states of Florida and Mississippi," said Brian Leathers, Austal USA Interim President and Chief Financial Officer "we are proud that Austal is an engine of regional growth for the Gulf."