a
Naval Forces News - USA
Ingalls-built Amphibious Transport Dock Somerset (LPD 25) Completes Builder's Trials
The future USS Somerset (LPD 25) successfully completed builder's trials, Aug. 16. Somerset is the ninth ship of the LPD 17 class of amphibious transport dock ships and was constructed at Huntington Ingalls Industries (HII) at the Avondale shipyard.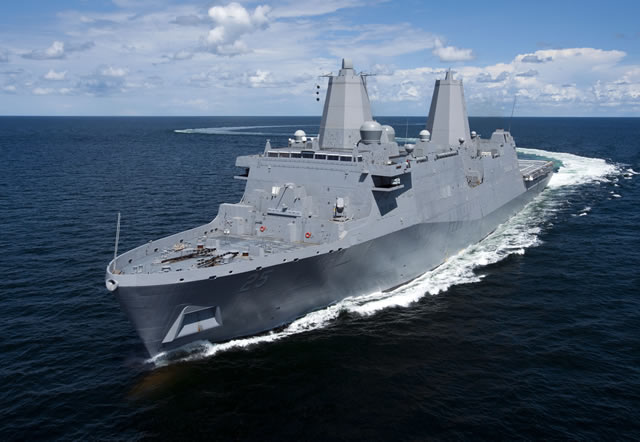 The Ingalls-built amphibious transport dock Somerset (LPD 25) sails through the Gulf of Mexico during builder's sea trials. Photo by Steve Blount

Builder's sea trials are conducted by the shipbuilder, testing a ship's major systems, including combat, propulsion, ballasting, communications, navigation, and mission systems. The trials allow the shipbuilder to identify and fix any deficiencies prior to Navy acceptance trials this fall.

"Somerset performed well during builder's trials," said Capt. Darren Plath, LPD 17 class program manager. "Her strong performance honors the craftsmanship of the Avondale team and the courage of the Americans for which the ship is named."

Somerset is the third and final ship named in commemoration of the heroes of the September 11th attacks, with the previously completed USS New York (LPD 21) and USS Arlington (LPD 24). LPD 25 is named for the passengers and crew of United Airlines Flight 93, whose actions disrupted the terrorist hijackers causing Flight 93 to crash in Somerset County, Pa. Steel from the power shovel that overlooked the crash site during recovery was melted down and cast into Somerset's bow stem.

During builder's trials, every ship system was evaluated from combat and communications systems, propulsion plant, auxiliary systems, to habitability and ship handling at-sea events. Somerset also completed self-defense exercises, a full power run, steering, rapid ballast/de-ballast operations, and an anchor handling demonstration.

Somerset is scheduled to deliver to the Navy this fall, and will be commissioned next spring. LPD 26 and LPD 27 are under construction at HII's Pascagoula, Miss. shipyard. Each LPD 17 class ship is designed to deploy combat and support elements, including both a flight deck and well deck, over 23,000 square feet in vehicle stowage, and capability to support a landing force of up to 800 Marines.

As one of the Defense Department's largest acquisition organizations, PEO Ships is responsible for executing the development and procurement of all destroyers, amphibious ships, special mission and support ships, and special warfare craft. Currently, the majority of shipbuilding programs managed by PEO Ships are benefiting from serial production efficiencies, which are critical to delivering ships on cost and schedule.