a
Naval Industry News - Russia
JSC Pella Shipyard launched first Project 03160 "Raptor" high speed patrol boat for Russian Navy
Russian shipyard Open Joint Stock Company "Pella" based in Leningrad launched the first Project 03160 Raptor high speed patrol boat for the Russian Navy on 15 August 2013. The vessel was entirely built by Open JSC "Pella".
The boat is intended to perform the following missions during day-time and at night:
» Transportation of group of at least 20 soldiers;
» Duties in assigned areas;
» Interception and arrest of small targets;
» Rescue of people in areas of duty;
» Navigation area – coastal areas, straits, estuaries standing off a place of shelter within 100 miles.

Ed. Note: Project 03160 "Raptor" appears to be a licensed version of the famous Swedish CB90-class fast assault craft, designed and built in 1989 by the Swedish company Dockstavarvet.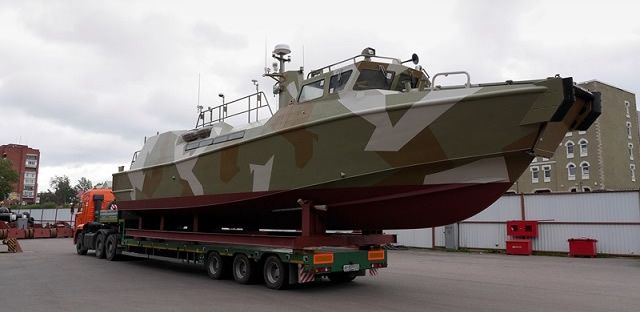 Project 03160 Raptor was designed to transport at least 20 soldiers

Main characteristics of the ship according to Open JSC "Pella":
Length max ab. 17 m
Width max ab. 4,0 m
Fixed height ab. 3,5 m
Depth ab. 0,9 m
Crew 2 persons
Special staff 22 persons
Speed about 50 knots
Total power 2000 h.p.

Scheduled time of delivery of the boat to the State customer is the September of the next year.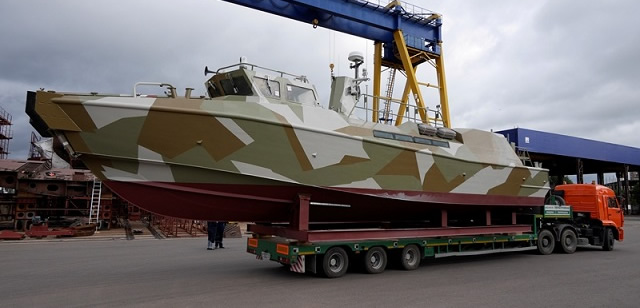 Delivery of the boat to the Russian Navy is scheduled for September 2014