a
Naval Forces News - USA
U.S. Navy Increasing its Destroyers Presence in the Mediterranean following recent events in Syria
The U.S. Navy has decided to maintain the USS Mahan (DDG-72 Flight II Arleigh Burke-class destroyer) in the Mediterranean. The move aims at strengthenin U.S. Navy presence in the region after new allegations of use of chemical weapons in Syria. USS Mahan was originally to sail back to its home port in Norfolk, Virginia. In total, four Burke class destroyers of the U.S. Navy Sixth fleet are curretly deployed in the Mediterranean waters: USS Gravely, USS Barry, USS Mahan and USS Ramage.

Each destroyer can potentially launch up to 90 Tomahawks Tactical Cruise Missiles. Destroyers however usually deploy with a mixed loadout of land attack missiles and SM-2 missiles for air defence.

Aircraft carrier USS Harry S Truman left last week the Mediterranean Sea, and joined the Red Sea through the Suez Canal but its air wing would still be capable to reach Syria from the Red Sea.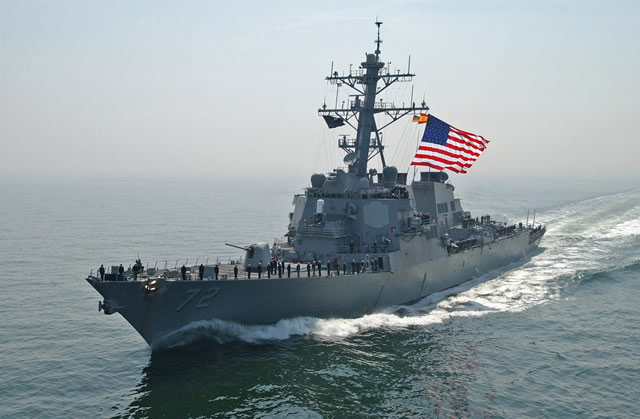 The Arleigh Burke-class destroyer USS Mahan (DDG-72)
(U.S. Navy photo)
The Pentagon's role is to provide the president all options to deal with all eventualities said US Minister of Defense Chuck Hagel, refusing any clarification on military means in question. The presence of four destroyers does not mean that a decision to intervene was taken against the Assad regime, he said.

This reinforcement would nonetheless help the military to act more quickly if Barack Obama gave them the order.