a
Naval Industry News - UK
Kelvin Hughes Achieves Multiple Wins In Asia Through Supply Of Their Innovative Solutions Including Sharpeye™ And Naval Mantadigital™ Radar
Kelvin Hughes, a global supplier of navigation and surveillance systems, is pleased to announce multiple successes in Asia for its SharpEye™ and Naval MantaDigital™ technologies. Kelvin Hughes Surveillance is a division of Kelvin Hughes that focuses on naval, coastal and military markets to supply surveillance radar technologies into land and sea environments. Since the launch of SharpEye™, the advanced solid state radar is increasingly preferred by Navies throughout Asia.
Kelvin Hughes'SharpEye™ SCV (small craft variant) Radome
Successful demonstration of Kelvin Hughes' SharpEye™ radar, and the associated Naval MantaDigital™ tactical display, has recently resulted in six orders by Asian Navies and shipyards.

SharpEye™ solid state radar is proven globally and is replacing less capable and less reliable magnetron technology. The radar has now been chosen in 32 programmes by 18 Navies for use as the navigation, surface search or helicopter control radar.

The unique capabilities of SharpEye™ have enabled the London-based technology company to grow its surveillance division revenue by over 20% year on year for the last 5 years. Growth for the current year is expected to exceed 50%.

Kelvin Hughes developed SharpEye™ with an aim to deliver superior radar performance and reliability without increasing the acquisition cost of the system compared to equivalent Naval radars.

As such, SharpEye™ is the world's first affordable solid state radar sensor, offering high reliability and low cost of ownership. Used in marine, coastal and land-based platforms, the SharpEye™ radar offers outstanding performance and can even be optimised for particular targets.

The recent wins in Asia include SharpEye™ supply for the Royal Thai Navy as part of a retrofit programme, and to the Pakistan Navy through a US Navy ship transfer programme. Kelvin Hughes will also supply SharpEye™ to the Royal Malaysian Navy and the Republic of China Navy - Taiwan

Kelvin Hughes has also seen recent success in the Indonesian Coastal Surveillance market as a supplier to the Bakorkamla and DGST programme for radar installations on the islands and a commercial port respectively.

Rohan Dearlove, Head of Sales Central Region at Kelvin Hughes, stated: "We are very proud of our recent achievements in the Asian market and also proud to be the radar supplier for the UK MOD's MARS programme".

Kelvin Hughes is optimistic about the future and confident that Asia is still showing strong demand for radar based safety, surveillance and security solutions.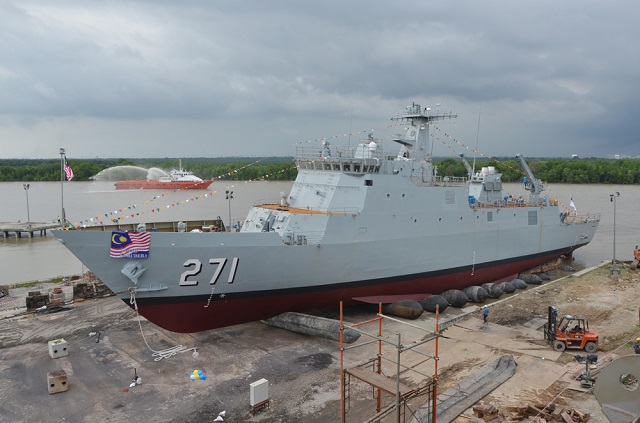 Royal Malaysian Navy training vessel Gagah Samudera
Picture: RMN
MALAYSIA

In December 2011, Kelvin Hughes secured an order for the Royal Malaysian Navy being jointly built by NGV Tech and Daewoo Shipbuilding and Marine (DSME). The order comprised two shipsets of I-Band and E/F-Band SharpEye™ radars with Naval MantaDigital™ tactical radar display software and hardware, supplied as an Integrated Bridge System. This is the first time the Royal Malaysian Navy has elected to use solid state radar technology on board their new build ships.

The contract of radar supply is for two 75-metre Royal Malaysian Navy patrol vessels to be used as training and patrol ships. The ships have recently been named Gagah Samudera (launched December 2012) and Teguh Samudera (launched February 2013).

Kelvin Hughes will supply a multipurpose radar system providing navigation, tactical surveillance and helicopter control capability. The system comprises an I and also E/F band radar with the transceiver being the unique SharpEyeTM solid state solution developed by Kelvin Hughes; low profile antennas; and crucially the Naval MantaDigital™ software. When this multifunction radar display and processing software is combined with SharpEye™, it enables multifunction capability and provides situational awareness in a complex environment – both in the short range and out to the radar horizon.

The system for the first ship has been installed and set to work with sea trials expected in July. Commissioning and setting to work for the second ship is expected in the latter part of 2013, followed by sea trials.

Hamzah Akhbar, Regional Sales Manager - Asia at Kelvin Hughes Surveillance, said: "Kelvin Hughes has a long standing relationship with the Royal Malaysian Navy, having supplied previous generations of magnetron radars – however this is the first time they have adopted a solid state solution on board their new build ships. They have previously chosen our solid state solution for a remote security installation looking out to sea. Kelvin Hughes is proud to again be the preferred supplier to the RMN to meet todays challenging operational requirements for both land and sea radar applications. We thank the RMN for their support."

Taiwan's Navy future fast combat support / fast auxiliary ship as shown during TADTE 2013
Picture: Navy Recognition
TAIWAN

In February 2012 Kelvin Hughes won a contract to supply their Naval MantaDigital™ radar – powered by their SharpEye™ solid state radar sensor – to the Taiwanese Republic Navy.

Just as with the Royal Malaysian Navy, this is the first time the Taiwanese Republic Navy has chosen to use solid state radar technology. The platform to receive the I-band radar is a new build Fast Auxiliary Ship.

Robert Kleist, Head of Sales, Asia Pacific at Kelvin Hughes Surveillance, said: "This contract award is specifically important to the company as it has been won in an environment of stiff competition where magnetron systems are typically slightly cheaper than the solid state solution. However, with so many references now in place both at sea and on land, it has become very easy for us to demonstrate the value obtained by utilising SharpEye™."

The system supply consists of a Naval MantaDigital™ multifunction radar display, low profile antenna and SharpEye™ solid state I-Band radar transceiver.

The system has huge advantages for surface search and surveillance with the ability to discriminate between small targets and clutter and to detect and track small targets at greater ranges. The innovative Naval MantaDigital™ display with its dual PPI, Tactical features and Enhanced Target detection mode, further enhances the radar capability.

Mr Kleist continued, "It is our ability to demonstrate the ratio between performance and cost and equate this back to value and capability that enables us to win these orders time and again."
HTMS Naresuan (FFG 421)
(Picture: Kazec)
THAILAND

In August 2012 Kelvin Hughes won a contract to supply SharpEye™ and Naval MantaDigital™ software with helicopter recovery and control functionality to The Royal Thai Navy as part of the mid-life upgrade programme for HTMS Naresuan and HTMS Taksin.

With Kelvin Hughes completing design and subsequent delivery in May 2013, setting to work of the systems is planned for August 2013 with a single MantaDigital™ display in each ships helicopter control room, two MantaDigital™ displays on the bridge all of which will operate the Naval version of the software providing full tactical features and helicopter control options.

The radar sensors for each ship are SharpEye™ I-band (X-band) and also E/F band (S-band) which boast the low power 200W solid state technology from Kelvin Hughes.

Alan Koong Regional Sales Manager - Asia at Kelvin Hughes Surveillance, said: "Our rising orders from Asia reflects the trust and demand for our SharpEye™ solid state radar and its technological advantage."
CSOC 1500 Tons Frigate
Picture: Navy Recognition
CHINA SHIP BUILDING FOR THREE AFRICAN AND ASIAN NAVIES

Kelvin Hughes recently concluded three new build contracts in China for exports to Bangladesh, Nigeria and another undisclosed navy.

The Bangladesh Navy, Nigerian Navy and a third Navy all selected Kelvin Hughes as their tactical navigation and situational awareness radar supplier. Shipbuilding contracts were with China Ship Building and Offshore International Co Ltd (CSOC) and a second shipyard in China.

Sandra Rojas, Senior Commercial Manager, said: In addition to being a recognised leading Supplier of navigational and tactical radars, the successful conclusion on these contracts demonstrates our ability to understand our customer's technical, programme and contractual needs and to establish cost effective solutions to meet them".

All three programmes involve both I-band (X-band) and E/F-band (S-band) radars with Naval MantaDigital™ tactical display software.

The Bangladesh Navy programme is for two ship sets for large Offshore Patrol Vessels (OPV), which contributes to their 10-year development plan.

The Nigerian Navy programme is for two ship sets for 1800T OPVs, which are mainly to be used for maritime surveillance, patrol and response tasks. Other roles for the vessels would be protection of offshore assets; EEZ patrol and surveillance; search and rescue; and certain capabilities of oil spillage control at sea.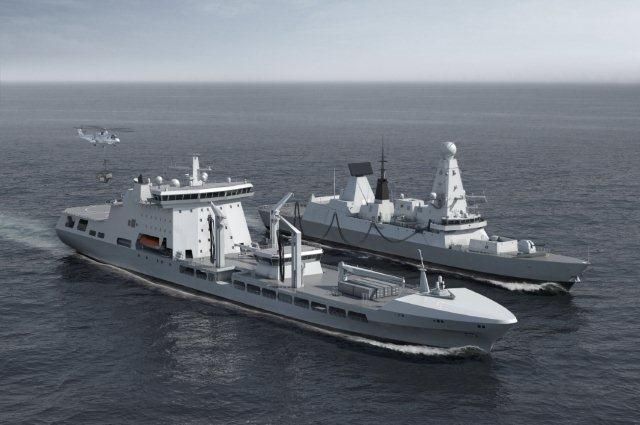 MARS vessel (Tide class)
Picture: BMT
MILITARY AFLOAT REACH AND SUSTAINABILITY (MARS) PROGRAMME

In September last year Kelvin Hughes announced that it is to supply Integrated Bridge Systems (IBS) and helicopter control radars for four fleet tankers being built for the UK Royal Fleet Auxiliary (RFA). The MOD awarded a contract worth £452m for the four new RFA tankers, to be built by Daewoo Shipbuilding and Marine Engineering (DSME) in South Korea.

Rohan Dearlove, Head of Sales – Central Region, said: "This contract continues Kelvin Hughes' long standing relationship with the RFA and builds on an increasingly successful supplier relationship with DSME, with whom we have recently entered into another contract to supply SharpEye™ based systems for an ASEAN Navy."

Mr Dearlove continued, "This contract represents one of the first implementations of SharpEye™ on a key UK maritime platform and demonstrates customer confidence in our solid state technology and the inherent benefits it brings."

Each shipset will consist of three SharpEye™ radars, which will be accessed and controlled via multiple console-mounted NMD tactical displays. The system will also include a suite of navigation sensors and other third party equipment.

Kelvin Hughes will be supplying the sub systems and supporting services at key milestones, with detailed engineering started back in September and equipment deliveries scheduled for 2014.