a
Naval Defense Industry News - France, Saudi Arabia
DCNS, Thales, MBDA win billion-euro defense contract to upgrade Royal Saudi Navy vessels
According to French financial newspaper La Tribune, France just signed a defense contract (valued at more than 1 billion Euros) for the upgrade and modernization of 4 Al Medinah class Frigates and 2 Boraida class Auxiliary Oiler Replenishment (AOR) vessels.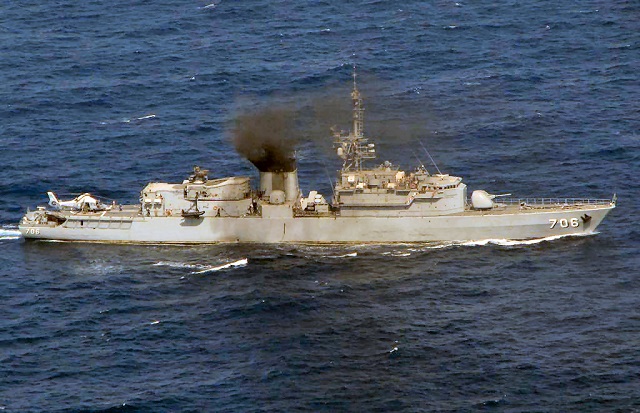 Royal Saudi Navy Al Medinah class Frigate Hofouf
Picture: Internet
The deal was signed in August between ODAS and the Kingdom of Saudi Arabia. ODAS was set up at the request of the French government to promote international sales of defence, security and other advanced technology products and services. The company focuses on both government-to-government and commercial contracts. ODAS's shareholders include the French state and the country's leading defence and security contractors.

The deal which should take effect as early as September involves DCNS, Thales and MBDA.

We can assume that the deal involves significant upgrades to both kind of ships, with the fitting of new Combat Management Systems, new Anti-ship and SAM systems as well as new sensors and other electronics.

Royal Saudi Navy Boraida class AOR Yunbou, seen here replenishing two French Navy vessels
(Picture: French Navy - Simon Ghesquière)

The four Al Madinah class Frigates were ordered in 1980 as part of the Sawari program. Each ship received extensive overhauls in France in the mid nineties under the Mouette program. Displacing 2,600 tons the class is currently fitted with 8x Otomat Mk 2 anti-ship missiles, 1x 8-round Crotale EDIR SAM system, a 100mm main gun, 2x twin 40mm OTO Melara Dardo guns, 4x torpedo launchers.

The two Boraida AOR (underway replenishment oilers) were also ordered as part of the Sawari program in 1980. While smaller, they are based on the French Navy Durance class AOR. The vessels act as training ships in addition to their main replenishment role.