a
Naval Forces News - USA
USS San Antonio (LPD 17) becomes sixth US Navy vessel deployed off Syria
A sixth ship of the U.S. Navy is now located in the eastern part of the Mediterranean Sea, not far from the Syrian coast, where five destroyers of the U.S. Navy are already deployed.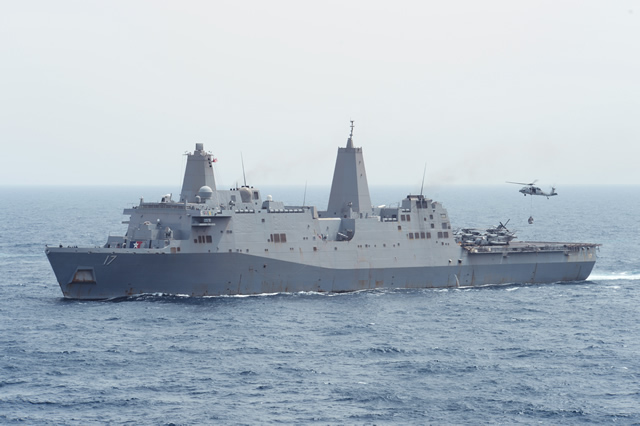 GULF OF ADEN (July 30, 2013) An MH-60S Sea Hawk helicopter hauls cargo from the amphibious transport dock ship USS San Antonio (LPD 17) during a replenishment-at-sea. San Antonio is part of the Kearsarge Amphibious Ready Group and, with the embarked 26th Marine Expeditionary Unit (26th MEU), is deployed in support of maritime security operations and theater security cooperation efforts in the U.S. 5th Fleet area of responsibility. (U.S. Navy photo by Mass Communication Specialist 3rd Class Derek Paumen/Released)
The USS San Antonio, an amphibious ship with hundreds of U.S. Marines on board, was in the region for reasons unrelated to Syria and there are no plans for Marines landing operations insists a senior defense.

"It was kept in the zone as a precaution," said the same source. USS San Antonio, which crossed the Suez Canal from the Red Sea on Thursday, was deployed for six months near the Arabian Peninsula.

USS San Antonio joins Burke class destroyers USS Gravely, USS Barry, USS Mahan and USS Ramage and USS Stout.

The San Antonio class ships are 684 feet long and 105 feet wide and displace approximately 25,000 tons. Their principal mission is to deploy the combat and support elements of Marine Expeditionary Units and Brigades. The ships can carry up to 800 troops and have the capability of transporting and debarking air cushion (LCAC) or conventional landing crafts, augmented by helicopters or vertical take-off and landing aircraft such as the MV-22. These ships will support amphibious assault, special operations or expeditionary warfare missions through the first half of the 21st century.