a
Naval Forces News - USA
New US Navy Missile Range Ship, USNS Howard O. Lorenzen (T-AGM 25) complete sea trials
The missile range instrumentation ship USNS Howard O. Lorenzen (T-AGM 25) successfully completed its final contract trials (FCT) in San Diego, the U.S. Navy announced, Dec. 5. FCTs, run by the Navy's Board of Inspection and Survey (INSURV), is the final review in a series of post-delivery tests and trials exercising all aspects of the vessel and its systems, including main propulsion, damage control, supply, deck, navigation, habitability, electrical systems and operations. INSURV officials monitored the successful demonstration of the ship's systems including both in-port and at-sea testing.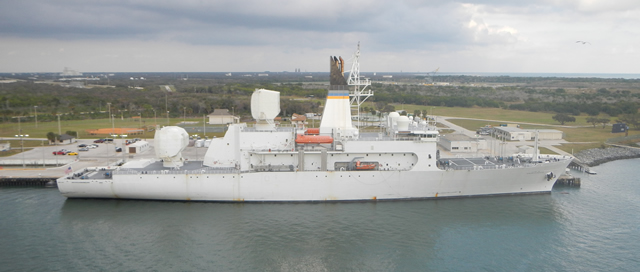 USNS Howard O. Lorenzen (T-AGM 25)
Picture: Robb
Constructed by VT Halter Marine in Pascagoula, Miss., T-AGM 25 and its Cobra Judy Replacement (CJR) radar system will be the replacement for USNS Observation Island., which was launched in 1953. CJR will provide worldwide, high-quality, dual-band radar data in support of ballistic missile treaty verification.
The crew consists of civilian mariners that operate the ship and an Air Force operations and maintenance crew to operate the mission radars.
"The crew demonstrated their professionalism and dedication throughout many weeks of hard work to ensure the successful completion of the final contract trials, as assessed by INSURV," said Capt. Roderick Wester, CJR major program manager, Program Executive Office for Integrated Warfare Systems (PEO IWS). "Captain Patrick Christian, the ship's master, thoroughly prepared his crew and ensured the highest level of material readiness for Howard O. Lorenzen."
CJR is a PEO IWS program. Design and construction of T-AGM 25 was managed by PEO Ships. The Navy will transfer the vessel to the U.S. Air Force for operations and maintenance once the ship reaches initial operational capability in 2014.
PEO IWS, an affiliated program executive office of the Naval Sea Systems Command, manages surface ship and submarine combat technologies and systems and coordinates Navy enterprise solutions across ship platforms.