a
Naval Forces News - Netherlands
Royal Netherlands Navy NH90 NFH Helicopter first operational deployment for Somalia Mission
The newest helicopter of the Dutch Armed Forces, the NH90 is aboard HNLMS De Ruyter Frigate on its way to Somalia. It is the first overseas mission for the maritime helicopter. The NH90 will provide an important contribution to the EU anti-piracy mission Atalanta.

The board helicopter will be mainly used for intelligence, reconnaissance and patrol and thus will act as the 'eyes and ears' of the frigate. With advanced detection equipment such as EO/IR sensor, radar and gauge collected information can then be forwared quickly and automatically via a data link.

The helicopter crew consists of a pilot, a coordinator for the tactical execution of the mission and an operator who operates the sensors and analyzes if necessary onboard weapons deployment. For helicopter operations from HNLMS De Ruyter, a total of 13 men are onboard.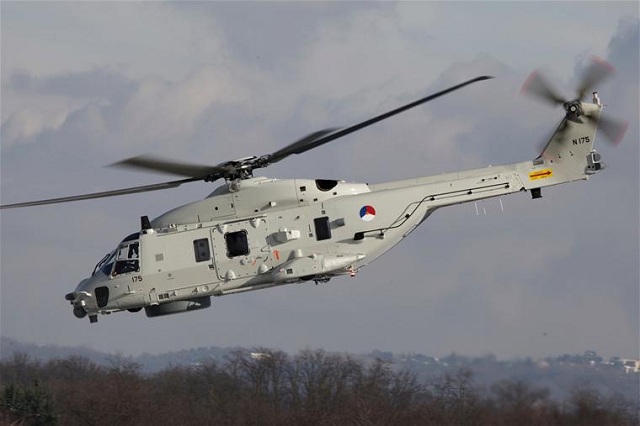 Netherland's NH90 NFH Maritime Helicopter
(Picture: Dutch Ministry of Defence)

The NHIndustries NH90 is a medium sized, twin-engine, multi-role military helicopter. The maritime version, called the NFH (for Nato Frigate Helicopter), is designed for autonomous anti-submarine warfare (ASW) and anti-surface unit warfare (ASuW), mainly from naval ships. These aircraft are equipped for day and night, adverse weather and severe ship motion operations.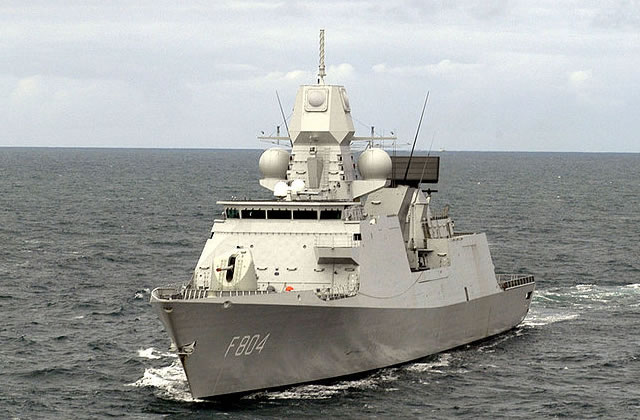 HNLMS De Ruyter Frigate
(Picture: Dutch Ministry of Defence)
The frigate HNLMS De Ruyter left her home port of Den Helder on January 20th 2013 for counterpiracy operations in the waters around Somalia. For this mission, the EU's Operation Atalanta, the ship is carrying the new NH-90 helicopter, which will see its first operational deployment.

The air defence and command frigate has extensive command & control, communications and data facilities. Her crew number 220 military personnel, including an enhanced boarding element of the Marine Corps, a heavily armed specialist team which can board suspect vessels. In addition, there is a medical team on board, as well as the crew of the helicopter.