a
Naval Industry News - UK
HMS Ambush attack submarine (SSN) officially welcomed into the Royal Navy
HMS Ambush, the Royal Navy's most advanced attack submarine was commissioned into the Royal Navy to become "Her Majesty's Ship" during a ceremony overseen by the submarine's crew, Naval Base, workers and around 500 invited guests. MS Ambush has officially joined the Royal Navy fleet following a ceremony. The nuclear-powered submarine arrived at her home port of HM Naval Base Clyde in September last year where she has been undergoing sea trials before entering operational service later this year.

John Hudson, Managing Director of BAE Systems' Maritime – Submarines said: "Today's ceremony is a significant milestone for Ambush and an occasion of huge pride for its Royal Navy crew, BAE Systems and everyone within the submarine enterprise.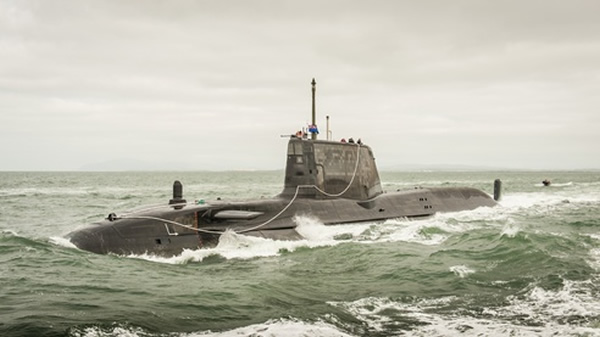 The second Astute class submarine Ambush
(Photo: BAE Systems)

"Contractual handover took place in December just three months after she set sail from Barrow for sea trials, while full operational handover to the Royal Navy will take place this year. That represents significant progress, demonstrating that we at BAE Systems, our supply chain partners, and the submarine enterprise, are improving and taking on board lessons learnt as the Astute programme progresses.

"Sea trials for both HMS Astute and Ambush continue to demonstrate the submarines' fantastic capabilities and today's commissioning is another major step forward for everyone involved."

Commanding Officer of HMS Ambush, Commander Peter Green, said: "The crew are immensely proud to mark the commissioning and to see the culmination of many months of hard work readying HMS Ambush for service with the Royal Navy."

HMS Ambush is expected to complete sea trials and be formally handed over to the operational control of the Royal Navy later this year.

The other five vessels Artful, Audacious, Anson, and the as yet unnamed boats 6 and 7 are currently at different stages of build and development.