a
Naval Industry News - Australia
Australian Customs and Border Protection Service's First Cape Class Patrol Boat officially named
Austal is pleased to announce the first-in-series Cape Class Patrol Boat has been officially named the Cape St George during a ceremony held at Austal's Henderson shipyard in Western Australia today. Cape St George is the first of eight new boats being built by Austal for the Australian Customs and Border Protection Service under a design, construct and in-service support contract valued at approximately A$330 million.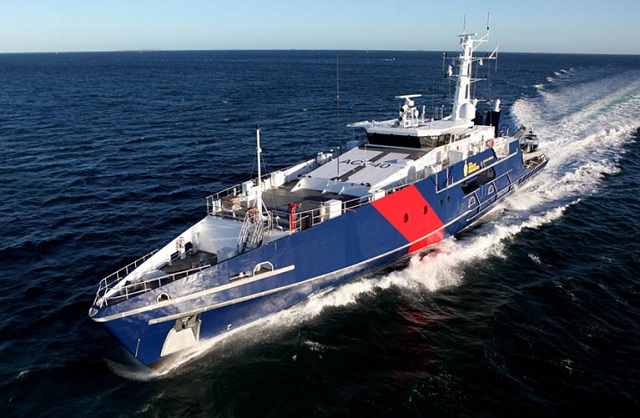 Cape St George is the first of eight new boats being built by Austal for the Australian Customs and Border Protection Service
(picture: Austal)
The vessel was launched at Austal's Henderson shipyard in January 2013. It has since undergone final fit out and sea trials, with some other testing to be completed prior to final delivery to the customer.

The naming ceremony was attended by the Australian Special Minister for State, the Hon. Gary Gray AO; and former President of the Australian Senate Margaret Reid AO, who officially named the vessel.

Austal Chief Executive Officer Andrew Bellamy said the naming of the first Cape Class vessels was a significant milestone for the company.

"The official naming ceremony is an occasion that allows us to celebrate the first of eight state-of-the-art, highly sophisticated Cape Class vessels that we are designing and constructing using our hallmark aluminium design," he said.

"The Cape Class contract has repositioned our Henderson facilities as a defence-focused operation, while reaffirming our position as an emerging global defence prime contractor.

"Close to 300 staff have been involved in the construction of this first vessel, and the contract has underpinned work at our Henderson shipyard.

"I would like to thank our staff and Austal's many suppliers for their important contribution on Cape St George as we look forward to delivering all eight patrol boats by August 2015."

Cape Class Patrol Boat
(picture: Austal)
Austal's role extends beyond the design and construction of the vessels. The company is also using its in-house expertise to develop and integrate sophisticated electronic systems for command, control and communication.

As part of the A$330 million contract, Austal will also perform ongoing in-service support for the Cape Class fleet over at least eight years, encompassing a full range of intermediate and depot level maintenance activities, valued at a minimum of A$50 million.

"Our ability to deliver the systems and support for the Cape Class fleet demonstrates our total solution capability, which represents the future of our Australian business," Mr Bellamy said.

"We will continue to expand and enhance the strategic industry capability necessary to meet the current and future defence needs of Australia and other nations."

Construction of the second Cape vessel is well underway, with the keel laid in January, while work has commenced on the third Cape vessel.

Apart from the Cape Class Patrol Boats, Austal is prime contractor for two major defence projects – the Littoral Combat Ship (LCS) and the Joint High Speed Vessel (JHSV) – for the United States Navy.