a
Naval Forces News - Russia
Third Steregushchiy class Corvette (Project 20380) "Boiky" starts sea trials with Russian Navy
The third Russian
Project 20380 Steregushchiy class corvette
is undergoing sea trials in the Baltic Sea. There are four more weeks of testing planned for the Boiky. Testing includes maneuvering and speed trials and an evaluation of mechanical, weapon, navigation, and radar systems.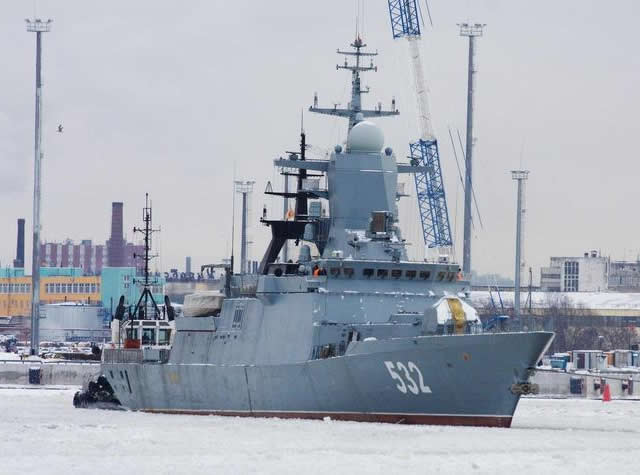 Russian Navy Boiky Corvette, third ship of the Steregushchiy class
Once sea trials are complete, the new corvette will undergo the second phase of state testing - an installation audit at the Severnaya Verf shipyard in St. Petersburg. Following that procedure, the Boiky will be commissioned into service with the Baltic Fleet.
The Boiky was laid down in July 2005 and slated for launch in 2009 and commissioning in 2010. However, construction has lagged, and the ship was not launched until April 15, 2011. Plans call for a total of 20 ships to be built. The first in the class, the Steregushchiy, was commissioned into service in 2008.
The Project 20380 class will displace some 2,000 tons and has been designed with a large degree of stealth technology, including hull and topside structures designed to reduce radar cross-section. In addition, radar-absorbing coatings have been applied. The ships will be equipped with a 100mm main gun, the
Kashtan anti-aircraft missile system
, two Uran anti-ship missile systems, inner layer defenses, and a flight deck capable of embarking one Ka-27 Helix helicopter.
The new corvettes will be used primarily for coastal patrol and to prevent poaching in Russia's exclusive economic area. Funding restrictions forced the Navy away from procuring more costly blue-water frigates or destroyers.