a
Naval Industry News - Germany
ThyssenKrupp Marine Systems showcases its modern submarines at IMDEX Asia 2013
TKMS participates at IMDEX Asia 2013, where its innovative portfolio of submarines and surface ships is presented to navies around the world. For ThyssenKrupp Marine Systems, South East Asia and the Pacific are strategically important markets and include a number of countries where their boats and vessels have been in successful operations since many years.

The newly established ThyssenKrupp Marine Systems GmbH leads with four business units, namely
- HDW (for submarine business)
- Blohm+Voss Naval (for surface vessel business)
- Services (for after sales support)
- Kockums (for submarines and surface vessel business)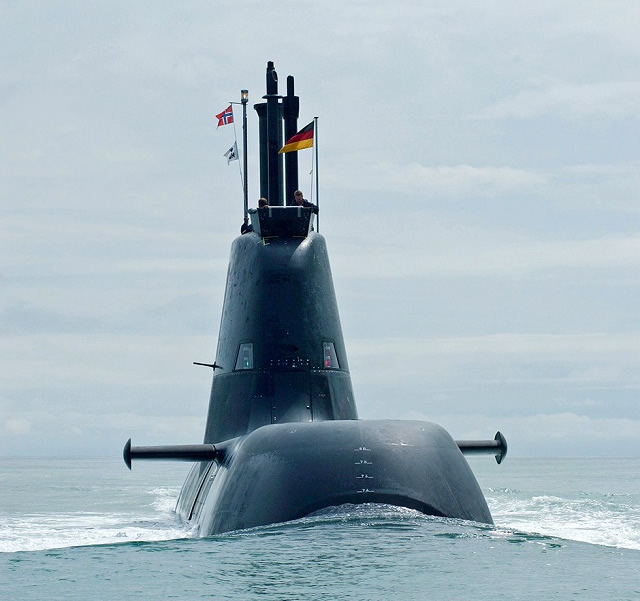 HDW Class 214 Submarines
(Image: ThyssenKrupp Marine Systems)
Unseen on Scene: Modern Non-nuclear / AIP submarines by ThyssenKrupp Marine Systems

HDW Class 214 Submarines
The single-hull single-compartment HDW Class 214 non-nuclear submarine fuses the design principles of the HDW Class 209 family and the innovative features of the HDW Class 212A boats to create a matchless, costeffective solution for modern navies moving into the future.

The proven HDW air-independent fuel cell propulsion system significantly increases underwater endurance and
significantly reduces the risk of detection. Increased diving depths, and a modular weapon and sensor mix in combination with the fully integrated AIP features predestine the HDW Class 214 for anti-surface ship, anti-submarine operations, intelligence gathering, surveillance, and reconnaissance, as well as for Special Forces operations. The boats' large payload permits a wide, flexible scope of missions ranging from littoral to blue water operations.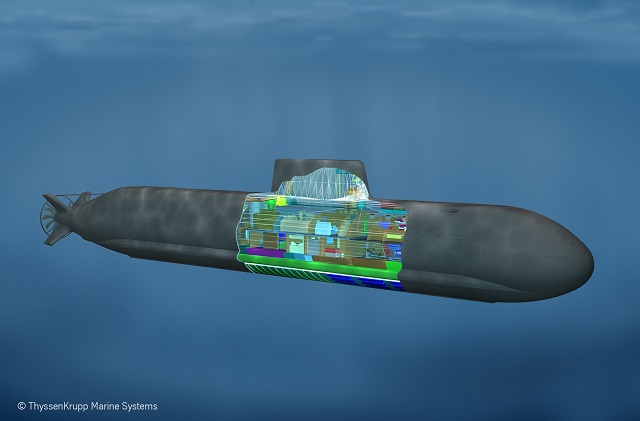 HDW Class 216 (ThyssenKrupp Marine Systems)
HDW Class 216

The HDW
Class 216 Submarine
is a long-range multi-mission two-deck fuel cell submarine with exceptional
endurance. It features two pressure-tight compartments, high crew comfort levels and an extremely flexible
payload for weapons and mission-orientated exchangeable equipment enhanced by the innovative Vertical
Multi-Purpose Lock (VMPL).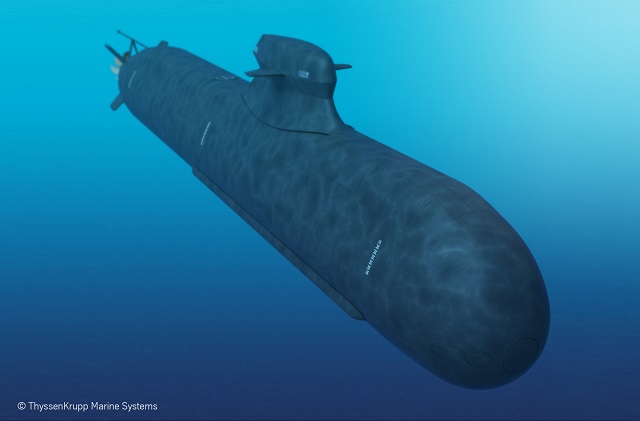 Kockums A26 (ThyssenKrupp Marine Systems)
Kockums A26
Building on the success and experience of the Kockums Gotland Class submarines, this new submarine class, the Kockums A26, shall be one of the world's most modern submarines for operation 2020 and beyond. It will be equipped with a Kockums Stirling AIP system which is one of the most mature and robust AIP system available, with a small logistic footprint, and it has been operational since 1989 in the Swedish Navy. The Swedish Government is in negotiations with Kockums AB as the main contractor to develop and procure two new submarines.

Visit ThyssenKrupp Marine Systems at IMDEX Asia 2013, Booth No. N02