a
Defense Industry News - USA
Raytheon's Joint Standoff Weapon C-1 demonstrates networked capability with E-2D aircraft
Raytheon Company and the U.S. Navy demonstrated the capability of the newest version of the Joint Standoff Weapon (JSOW) C-1 by establishing communications among an F/A-18E/F Super Hornet aircraft, an E-2D Advanced Hawkeye aircraft and the JSOW C-1.

The test was part of the Navy's Trident Warrior 2013 demonstration in July. During the demonstration, fighters simulated the launch of a JSOW C-1 while the E-2D directed the weapon toward the positively identified target. The E-2D aircraft also received status updates sent from the JSOW C-1.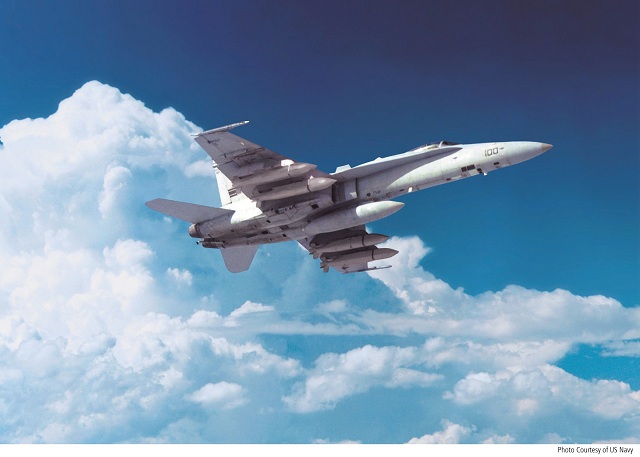 US Navy F-18 with JSOW
(Picture: Raytheon)
"The success of the Trident Warrior 2013 demonstration proves the feasibility of providing the fleet a means of executing the complete kill chain with carrier-based assets utilizing the F/A-18E/F, JSOW C-1 and E-2D to engage maritime targets at range," said Cmdr. Errol Campbell, the U.S. Navy's Precision Strike Weapons program office deputy program manager for the JSOW program.

Additionally, the team was able to track and designate a target; simulate the launch of the JSOW; send, receive and acknowledge target updates; and receive bomb hit indication data from the weapon.

"This test further verifies the flexibility and seamless plug-and-play connectivity of JSOW C-1's network-enabled capability," said Celeste Mohr, JSOW program director for Raytheon Missile Systems. "The test demonstrates the relative ease with which the U.S. Navy can build on the ongoing integration of the JSOW C-1 on the U.S. Navy's F/A-18 and expand the interoperability and connectivity to a fielded carrier-capable tactical airborne early warning aircraft."

In 2009, the Navy performed a similar demonstration of connectivity and interoperability among sensor platforms, a shooting platform and the JSOW C-1 during the Joint Surface Warfare Joint Capability Technology Demonstration. This demonstration involved a P-3 Orion aircraft's littoral surveillance radar system and an E-8C Joint Surveillance Target Attack Radar System aircraft.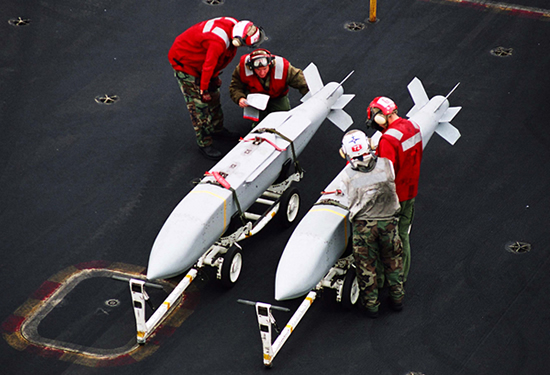 JSOW is a family of affordable, air-to-ground weapons that employ an integrated GPS- inertial navigation system.
(Picture: Raytheon)
About the Joint Standoff Weapon
JSOW is a family of low-cost, air-to-ground weapons that employ an integrated GPS-inertial navigation system and terminal imaging infrared seeker. JSOW C-1 adds the two-way Strike Common Weapon Datalink to the combat-proven weapon, enabling a moving maritime target capability.

» JSOW C-1 is the world's first network-enabled weapon with a range of more than 100 kilometers.
» The U.S. Navy's first two JSOW C-1 free-flight tests also resulted in direct hits on their moving ship targets.
» The low cost, low risk development spiral of JSOW ER extends the standoff range to more than 250 nautical miles. The JSOW family is the only internally carried anti-surface warfare and integrated air defense standoff weapon on the F-35A and F-35C aircraft roadmap.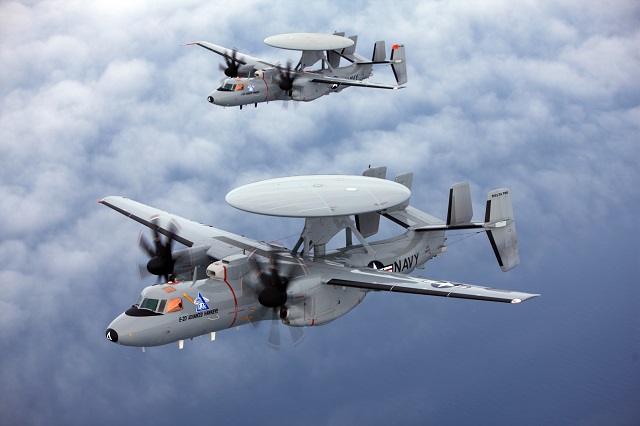 E-2D Advanced Hawkeye
(Picture: US Navy)