a
Naval Industry News - Malaysia
Malaysian Ministry of Defence Confirms Construction of Gowind ships for LCS program
Boustead Heavy Industries Corporation BHD (BHIC) announced in early october that its associate company Boustead Naval Shipyard has received confirmation from the Malaysian Ministry of Defence on a 10 year contract worth RM9 billion to build six Second Generation Patrol Vessel (SGPV) as part of the Malaysian Littoral Combat Ship (LCS) program.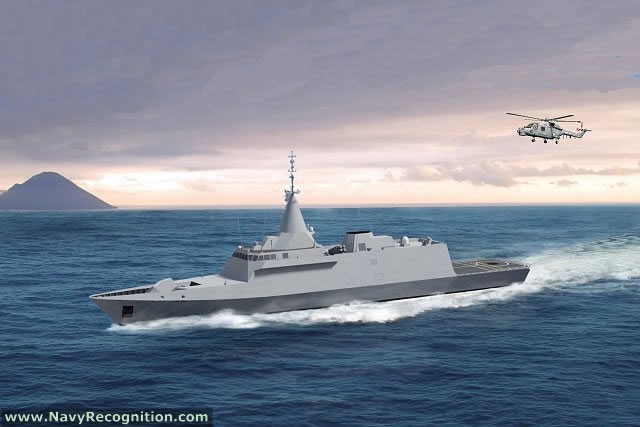 Artist impression of the future Royal Malaysian Navy Littoral Combat Ship frigates,
based on DCNS' Gowind Combat corvette design.
"The company wishes to inform that on Oct 1, 2013, Boustead Naval Shipyard Sdn Bhd (BN Shipyard) has received an amended letter of acceptance dated Sept 27, 2013, from the Ministry of Defence Malaysia for the contract to design, construct, equip, test and deliver six units of second-generation patrol vessels with combatant capabilities for the Royal Malaysian Navy," BHIC said in a filing with Bursa Malaysia.
Via the amended LOA, the Ministry of Defence has confirmed that the value of the contract is RM9.0 billion and the contract is for is 10 years, from December 29, 2011, to December 28,2021. In addition, the Ministry has also confirmed it will pay further advance payment of RM700 million in stages to BN Shipyard.
Navy Recognition learned during LIMA 2013
defense show that the future Royal Malaysian Navy Littoral Combat Ships, based on French Shipyard DCNS' Gowind combat design, will be fitted with the following systems:
- BAE Systems Bofors 57mm stealth main gun
- SETIS combat management system
- Rheinmetall Fire Control Systems (TMX/EO Mk2 and TMEO Mk2)
- MTU engines.
The length of the LCS will be 111 meters with a displacement of about 3,000 tons. According to the general consens and rumors in the industry, the Malaysian "second-generation patrol vessels" will also come with:
- Thales Smart-S Mk2 radar
- Thales Captas 2 towed array sonar
- MSI-Defence 30mm guns
- MBDA Mica VL for air defense in VLS cells
- MBDA MM40 Exocet BlkIII anti-ship missiles