a
Naval Industry News - Russia
Russian Navy new SSBN Alexander Nevsky (Borey class) completes sea trials
Russia's new nuclear-powered submarine, the Alexander Nevsky, has completed sea trials, a shipbuilder said Monday. Work on the Borey-class project is "on schedule," the Sevmash shipyard said, without providing any indication of when the submarine would join the navy.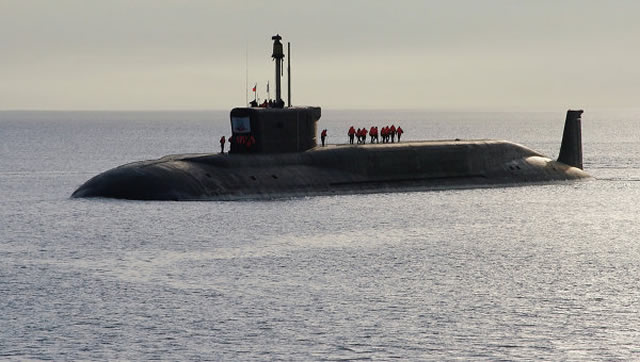 Russia's first Borey class ballistic missile nuclear submarine, the Yury Dolgoruky
(Picutre: Sevmash Shipyard)
In early September, Russia put on hold the trials of two Borey-class submarines following an unsuccessful launch of a Bulava submarine-launched ballistic missile (SLBM). Russian Defense Minister Sergei Shoigu also ordered that the Alexander Nevsky and the Vladimir Monomakh submarines, designed to carry the Bulava, hold five additional launches of the troubled SLBM.

The Alexander Nevsky was expected to be handed over to the Navy on November 15, while the other Borey-class sub was due to be commissioned in mid-December, Sevmash chief Mikhail Budnichenko said in July. However, the adoption of both of those submarines depends on the success of the Bulava test launches.

Including that latest failure, eight out of 19 or 20 test launches of the troubled Bulava have been officially declared unsuccessful. The Russian military has repeatedly stated that there is no alternative to the Bulava.

The three-stage Bulava carries up to 10 MIRV warheads, has a range of over 8,000 kilometers (5,000 miles) and is designed for deployment on Borey-class nuclear submarines.