a
Naval Industry News - UK, Oman
BAE Systems hands over second Khareef class Corvette for Royal Navy of Oman
Portsmouth, UK: BAE Systems has handed over a new warship to the Royal Navy of Oman amid colourful celebrations on HM Naval Base Portsmouth this morning. AL RAHMANI is the second of three 99 metre corvettes designed, built and delivered for the Royal Navy of Oman as part of Project Khareef. Her Interim Acceptance, in which the ship's title is transferred before sailing to Oman, marks an important milestone for the project.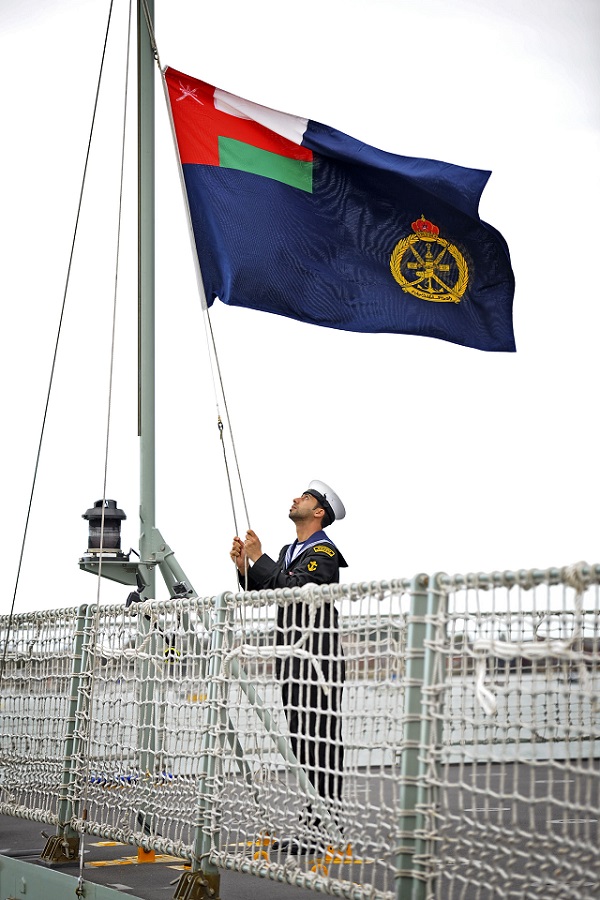 A Royal Navy of Oman sailor raises the flag on the Al Rahmani
(picture: BAE Systems)
The formal handover ceremony was attended by BAE Systems employees and VIPs from the Royal Navy of Oman and the Royal Navy who watched her crew board the vessel and raise the National Flag of Oman on the ship's flight deck for the first time.

Mick Ord, Managing Director of BAE Systems Maritime – Naval Ships, said: "This is a proud occasion for both the Royal Navy of Oman and our employees who have worked together to design, build and deliver this impressive ship. The delivery of these three corvettes now has a real momentum behind it, which is testament to the strong partnership we have built with the Royal Navy of Oman and the dedication of everyone on the project."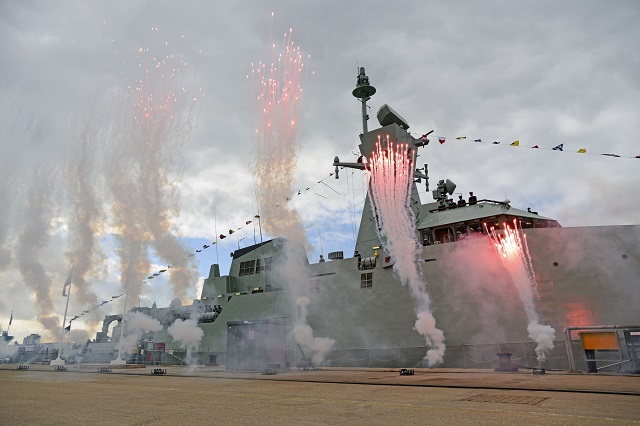 Second Khareef class warship during the hand over ceremony
(picture: BAE Systems)
In celebration of the milestone, BAE Systems employees took part in a week of Omani themed activities with the ship's crew members. Portsmouth's iconic Spinnaker Tower will also join the celebrations tonight by lighting up in Oman's national colours over the city in which AL RAHMANI was constructed.

BAE Systems will now support AL RAHMANI's crew as they complete Flag Officer Sea Training with the Royal Navy before departing on a 3,000 mile delivery voyage to Oman. The ship will then complete final hot weather trials during which the ship will demonstrate her ability to perform in temperatures in excess of 45 degrees celsius.

The first vessel in the class, AL SHAMIKH which was handed over in June, has now arrived in Oman, while the third ship, AL RASIKH, is scheduled for handover in the first half of 2014.