a
Naval Industry News - Israel
Israel Aerospace Industries will Supply Three New Super Dvora Fast Patrol Boats to the Israel Navy
Israel Aerospace Industries' (IAI) Ramta division has won a contract to supply three Super Dvora Mk 3 fast patrol boats to the Israel Navy. The Super Dvora Mk 3, an advanced development of the Ramta Division, is a mainstay of the Israel Navy's ongoing security activities. The boat is used for patrol, and other operations, protection of Israel's coasts and strategic assets at sea and along all of its coasts, prevention of terrorist activities and infiltration, as well as preventing smuggling and all illegal activity in Israel's Exclusive Economic Zone (EEZ) and more.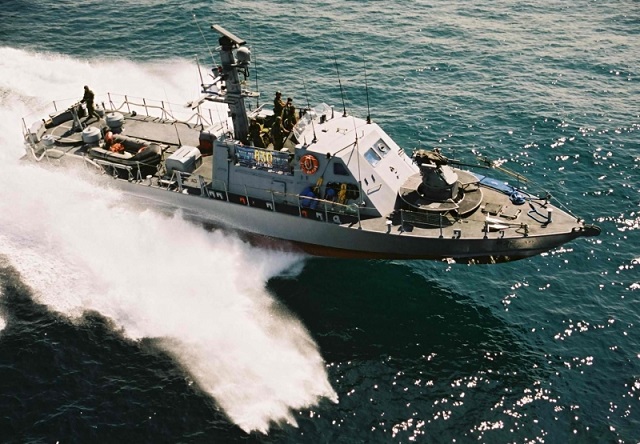 Super Dvora Mk III Fast Patrol Craft

The boats, to be provided to the Israel Navy represent the fourth generation of boats of this type, and were developed in close cooperation between IAI and the Israel Navy using lessons learned operationally. The boats include an advanced propulsion system to allow sharp and quick maneuvering as well as unique speed tailored to various modern threats and are equipped with a variety of combat, detection, defense and attack capabilities. The Super Dvoras incorporate these features in their relatively small dimensions, while maintaining operational flexibility, the crew's safety and survivability of the vessel.
The current contract is a continuation of a previous order of four ships, a strong indication of the Israel Navy's high degree of satisfaction from the vessel, its operational capabilities and Ramta's advanced design and production capacity. These boats will join over forty boats, which, starting from the Dabur, in the seventies, were supplied to the Israel Navy.
The Super Dvora is considered to be one of the world's most advanced vessels in the fast attack craft category, due to the high speed it is capable of reaching, as well as its advanced detection, navigation, communication capabilities, and precision fire measures. The Super Dvora's operational features allow for naval superiority in the close combat arena. Its high capabilities and reliability were proven in various ongoing operational activities of the Israel Navy as well as with many other navies around the world.
Currently, the Super Dvora Mk 3 is being evaluated for use in several countries for protection of strategic facilities within their EEZ, and as a countermeasure against any hostile marine activity. IAI's Ramta, with its accumulated experience of some forty years has designed and manufactured over 120 boats to various customers around the world, along with aerial, ground and other systems.
IAI's president & CEO Joseph Weiss said: "IAI's commitment to the Israel Navy is amongst the deepest of Israeli and international defense industries. We feel great pride and a sense of mission by being given the opportunity to contribute to the safety of Israel. Signing this contract strengthens and establishes IAI's position with the world's leading companies in the design and manufacture of vessels for missions which require strong operational capabilities as well as uncompromising reliability."
IAI Ramta division's general manager, Brigadier General (Res.) Nitzan Shaked said: "We act on fully understanding the needs of the arena and our products are uniquely tailored to the user requirements. Ramta has been providing leading products over several decades while maintaining fruitful cooperation with our customers. Our end-to-end solutions are provided with full responsibility for their operational capabilities, reliability, technology and integration."
Super Dvora Mk 3 - Technical Information
• Length -27.4 m (90 ft)
• Beam - 5.7 m (18.6 ft)
• Speed - 45 knots (83 km/h)
• Draught - 1.3 m (4.3 ft)
• Displacement - 70 ton
• Armament - Flexible (according to mission)
• Crew -12 people
• Cruising range -1000 nautical miles at cruising speed