a
Naval Forces News - USA
U.S. Navy to deploy first warfare laser onboard USS Ponce this spring
US Navy researchers made significant progress on directed energy weapons, allowing the service to deploy a laser weapon on a Navy ship two years ahead of schedule. The at-sea demonstration in FY 14 onboard USS Ponce is part of a wider portfolio of near-term Navy directed energy programs that promise rapid fielding, demonstration and prototyping efforts for shipboard, airborne and ground systems.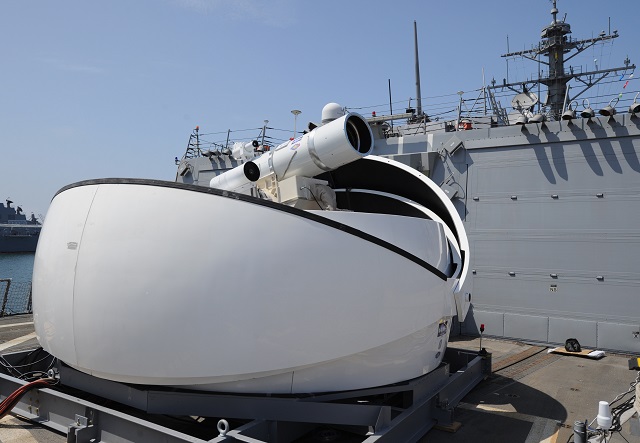 The Laser Weapon System (LaWS) temporarily installed aboard the guided-missile destroyer USS Dewey (DDG 105) in San Diego, Calif., is a technology demonstrator built by the Naval Sea Systems Command from commercial fiber solid state lasers, utilizing combination methods developed at the Naval Research Laboratory. LaWS can be directed onto targets from the radar track obtained from a MK 15 Phalanx Close-In Weapon system or other targeting source.
(U.S. Navy photo by John F. Williams/Released)
The U.S. Navy's laser weapon has progressed far enough that when it's deployed and tested on the USS Ponce, it can be controlled by a lone sailor.

The U.S. Navy also plans to outfit one of its ships with an electromagnetic rail gun within two years. Speaking to the Associated Press, Navy Capt. Mike Ziv, a program manager at the Naval Sea Systems Command, said making these technologies operational "fundamentally changes the way" the United States conducts warfare.
Video of the demonstration of the high-energy laser aboard a moving surface combatant ship and against remotely piloted aircraft
Officials consider the solid-state laser a revolutionary technology that gives the Navy an extremely affordable, multi-mission weapon with a deep magazine and unmatched precision, targeting and control functions. Because lasers run on electricity, they can be fired as long as there is power and provide a measure of safety as they don't require carrying propellants and explosives aboard ships.

Lasers complement kinetic weapons to create a layered ship defense capability, providing improved protection against swarming small boats and unmanned aircraft at a fraction of the cost of traditional weapons.

The advancing technology gives sailors a variety of options they never had before, including the ability to control a laser weapon's output and perform actions ranging from non-lethal disabling and deterrence all the way up to destruction.

"We expect that in the future, a missile will not be able to simply outmaneuver a highly accurate, high-energy laser beam traveling at the speed of light," Klunder said.

Following the USS Ponce demonstration, the Navy and DoD will continue to research ways to integrate affordable laser weapons into the fleet.