a
Naval Forces News - Indonesia
Ukraine to supply 50 BTR-4 armoured personnel carriers to Naval Forces of Indonesia (TNI AL)

In the end of 2014 in Djakarta the negotiations between Spectechnoexport management and representatives of Ministry of Defense and Naval Infantry of the Naval Forces of Indonesia were conducted. Within the negotiations the fundamental terms of the contract for the BTR-4 supply in quantity of 5 units were discussed. As a reminder, Spectechnoexport has won the tender for the purchasing armored vehicles for the purposes of Naval Forces of Indonesia offering BTR-4 manufactured by Kharkiv Morozov Machne-Building Design Bureau.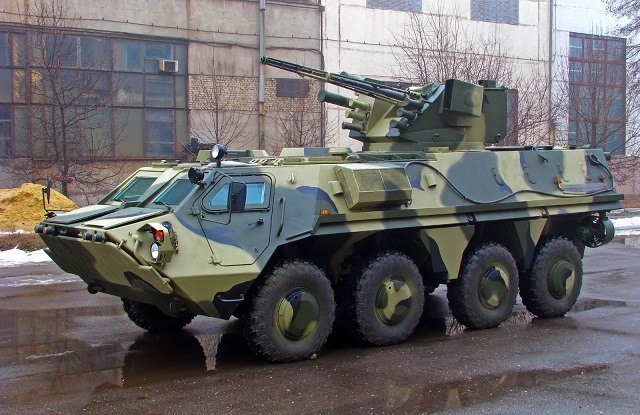 Ukraine will supply 50 BTR-4 to the Naval Forces of Indonesia (TNI AL)

The Draft contract was initialed by both parties. The process of its consideration for an approval is being carried out by the responsible structures of Ministry of Defense of Indonesia. It is expected that this contact will be handed over to Ukrainian party in the nearest future.
It should be noted that this contract is the first step of the Program on armored vehicles purchase by Indonesian Naval Forces. If the contract is implemented successfully, other 50 similar vehicles will be also supplied. Also worth noting is that winning in this Project is the result of difficult competitive struggle with Russian special exporters.
The BTR-4 is a 8x8 wheeled armoured personnel carrier designed in Ukraine by the Kharkiv Morozov Machine Building Design Bureau as a private venture. The prototype was unveiled at the Aviasvit'2006 exhibition held in Ukraine in June 2006. The BTR-4 medium-armored vehicle is well suited for rapid reaction forces and marine corps carrying up to fully equipped infantrymen/marines in addition to the three-man crew.

Link to BTR-4 8x8 APC Technical Datasheet