a
Naval Industry News - France, Colombia
Successful Sea Acceptance Trials of Colombian Almirante Padilla class frigates

Thales and DCNS announce the comprehensive modernisation programme of the Colombian Navy's four Almirante Padilla class frigates has been concluded with a successful Sea Acceptance Test of the class's fourth ship. The contract with the Colombian authorities was signed early 2009, with DCNS acting as prime contractor and Thales as the lead systems integrator for the combat system and communications suite.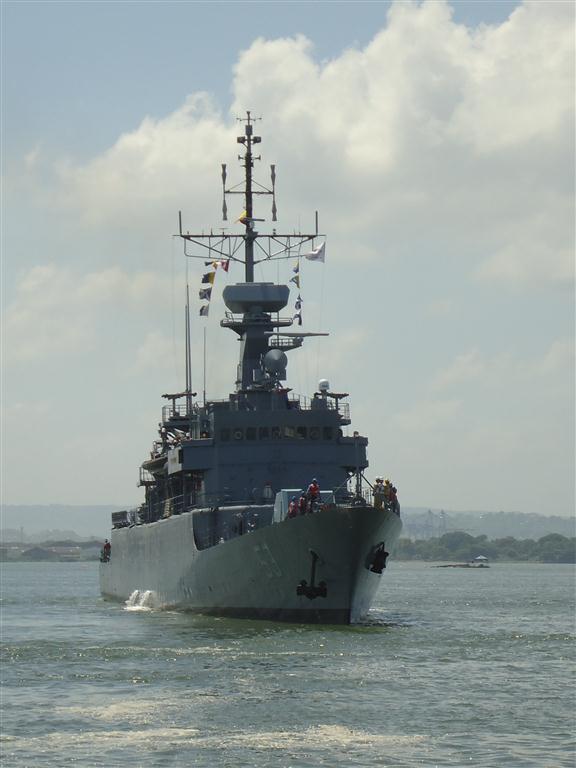 Colombian Navy Frigate ARC Independiente
Picture: DCNS

In the scope of this modernisation programme, Thales and local shipyard, Cotecmar, have installed and integrated the
SMART-S Mk2 surveillance radar
, STING EO Mk2 electro-optic weapon control system, MIRADOR optronic weapon control system, VIGILE 200S electronic support measures (ESM) system, communications systems and Terma's SKWS decoys launching system, on the four Padilla class ships. Thales has also modernised the vessels' Altesse communications intelligence (COMINT) systems.
"This programme demonstrates that Thales is perfectly capable of realising a large modernisation programme within an agreed timeframe and according to the customer's requirements. It also proves that modernising existing platforms is a good way to considerably extend the ships' life cycles, and significantly enhance their capabilities" said Aniss Aqallal, Thales Colombia Country Director. "Our success in the Padilla programme highlights our strong commitment to Colombia's defence strategy, as was underlined by the Minister of Defence, Juan Carlos Pinzón, during his speech at the final site acceptance test ceremony."
Pierre Legros, DCNS Surface Naval Systems Senior Vice President, said: "The successful modernisation of Colombia's Almirante Padilla frigate demonstrates DCNS's ability to lead the overall project management of such a modernisation programme to the complete satisfaction of the client. DCNS draws on both the expertise of Cotecmar shipyard, which was selected by the Colombian Navy, and those of its partners, first and foremost Thales, while respecting the Government-to-Government agreement signed between France and Colombia."