a
Naval Forces News - UK
Royal Navy's Wildcat maritime helicopter lands for the first time on a Type 45 destroyer at sea

A Wildcat, the Royal Navy's next-generation helicopter, has landed for the first time on the flight deck of a Type 45 destroyer at sea. The Royal Navy's Wildcat, the maritime attack variant of the Lynx helicopter, is currently undergoing extensive trials with 700W Naval Air Squadron. As part of those trials, the aircraft has been working at the MOD's aerial range in Cardigan Bay.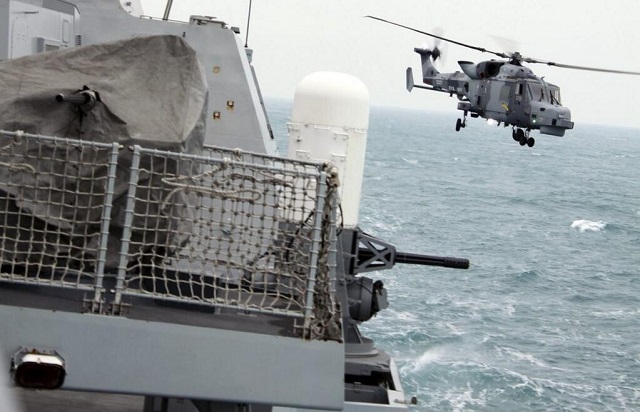 A Wildcat helicopter makes its final approach to land on HMS Dragon
Picture: Royal Navy

From next year, Wildcat will begin to replace the Lynx Mark 8 as the helicopter which supports Royal Navy destroyer and frigate operations around the world.
The inaugural arrival of Wildcat on HMS Dragon went seamlessly and the whole ship's company got the chance to take a look at and admire the latest addition to the Fleet Air Arm.
Captain Iain Lower, the Type 45's commanding officer, said: Today is a small, but exciting, step in the progression of this new capability and I am delighted that HMS Dragon was able to help. I look forward to seeing what the aircraft can do when we put it through its paces later this month.
After the brief visit, Wildcat will be a more permanent presence on board Dragon later this month as, for the first time, the helicopter is embarking on the ship for the latest Exercise Joint Warrior; a biannual exercise in which British and foreign armed forces hone their skills off the coast of Scotland for up to 3 weeks.
Lieutenant Commander Simon Collins, commanding officer of 700W Naval Air Squadron, flew over to HMS Dragon with his squadron colleagues. He said:
This year will be one of many firsts for the Wildcat crews as we work with our industry partners to get the aircraft to sea as soon as we can.
Deck landings on board a Type 45 at sea are a real milestone and it was a pleasure to join the HMS Dragon team to show them what Wildcat can do.
The Wildcat roll-out programme continues apace, and plans are in motion for the current flight to be the first to complete operational sea training with a Type 23 frigate in the autumn.
Link to AgustaWestland AW159 Wildcat multi-role maritime helicopter technical datasheet