a
Naval Forces News - Philippines
Philippine Navy to procure two 2 AW-159 Anti-Submarine Helicopters

Philippine's Department of National Defense (DND) on Monday announced that it has allocated P5.4 billion to fund the acquisition of two brand-new anti-submarine warfare (ASW) helicopters for the Philippine Navy.

This was confirmed by DND undersecretary for finance, modernization, installations, and munitions Fernando Manalo in a message to the PNA."The ASW helicopters is one of the projects included in the list of the AFP Modernization Program. The project is for implementation," he added.Manalo said the budget for acquiring the two ASW helicopters is placed at P5.4 billion and the acquisition process for the aircraft is expected to be completed by this year.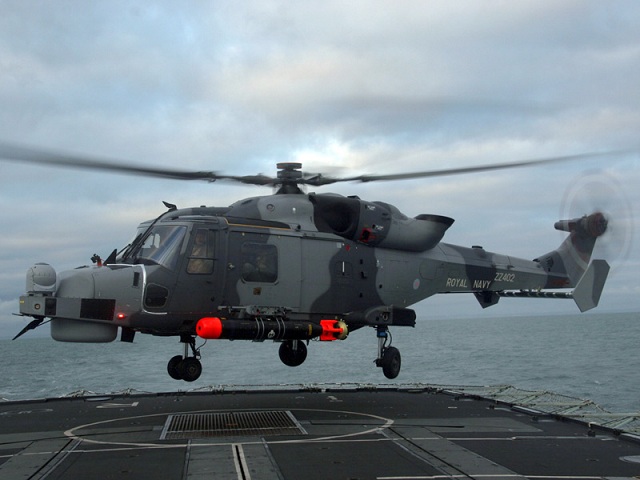 A Royal Navy Wildcat helicopter takes off from the flight deck of HMS Iron Duke
(picture: Crown Copyright/MOD 2012)
The PN earlier announced that it is looking at the possibility of acquiring the AW-159 "Wildcat" as its ASW helicopters.The Navy is in the market for two ASW helicopters.This is part of the country's Medium Term Defense Acquisition List for the next four years.The ASW choppers will be assigned to the BRP Gregorio Del Pilar (PF-15) and BRP Ramon Alcaraz (PF-16).The AW-159 (previously called the Future Lynx and Lynx Wildcat) is an improved version of the Westland Super Lynx military helicopter.The AW-159 will serve in the battlefield utility, search and rescue and anti-surface warfare roles.
Link to AgustaWestland AW159 Wildcat multi-role maritime helicopter technical datasheet