a
Naval Forces News - Australia
Australia's new SAR aircraft will see further with Kestrel Maritime ViDAR system
Australia's Maritime Safety Authority will induct new search and rescue aircraft in the near future, with enhanced capabilities. Four Bombardier Challenger 604 jet aircraft will enter service from August 2016 and onwards.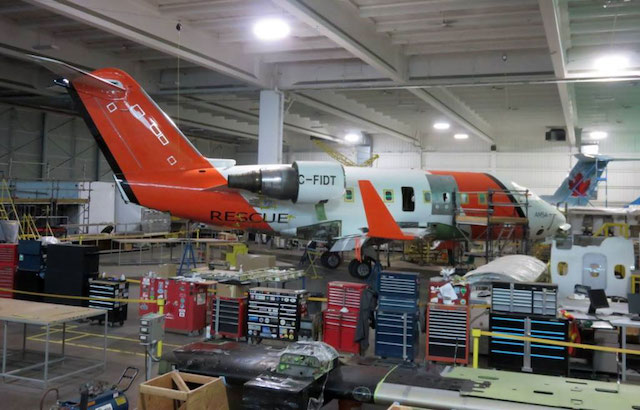 A Challenger 604 undergoing modifications at Bombardier's hangar in Canada. (Photo: AMSA)

The new platforms will have unprecedented ability to detect and track people and objects in the water. Cobham Aviation Services, which is the prime contractor, has selected Sentient Vision's Kestrel Maritime ViDAR (Visual Detection and Ranging) as part of the overall sensors suite, which also includes a Wescam MX-15 as a primary sensor.

Kestrel Maritime ViDAR is comprised of a 9-megapixel optical sensor combined with an on-board software. The latter detects and highlights in real-time, sea surface objects, which cannot be detected by the naked eye. The system had been tested by the US Coast Guard in 2014 and managed to detect small targets at a distance of more than 20nm.

Anthony Peterson, Cobham's Business Development Director, said: "The real benefit we see in ViDAR is the ability to maintain a consistent quality visual search that has the same probability of detection in the first hour through to the last hour of an eight hour mission. Visual searching with the human eye is very fatiguing and diminishes over time as crew fatigue. This is the first product that offers the potential to offset the human fatigue factor for search and rescue (SAR) operations and we are very excited about the benefits to SAR outcomes.

Simon Olsen, Sentient's Director of Business Development, Strategy and Parternships, said: "With ViDAR, Cobham will be able to provide AMSA with a proven, mature, highly capable visual detection system suited to the SAR role. We are proud that Cobham has chosen our system as part of a sophisticated sensor suit that can be trusted to deliver during critical, life-saving SAR operations."

The Australian Maritime Safety Authority awarded the contract for the search and rescue services at Cobham Aviation Services in October 2014. Under the 12-year, AUD640 million-contract, Cobham will supply and operate the four Challenger 604 aircraft, from three different locations across Australia, namely Cairns, Perth and Melbourne. They will replace the fiver Dornier 328 turboprop-engine currently in service. The Bombardier aircraft will be able to locate people and objects at sea, and deliver first-aid equipment, such as satellite phones, life-rafts, food, water and other, to people in distress.