a
Naval Industry News - China
First Details on Likely Future Type 75 LHD for PLAN Showed Up on China Government Website
The first details on a future landing helicopter dock (LHD) amphibious assault ship for the People's Liberation Army Navy (PLAN) may have emerged on a government website in China.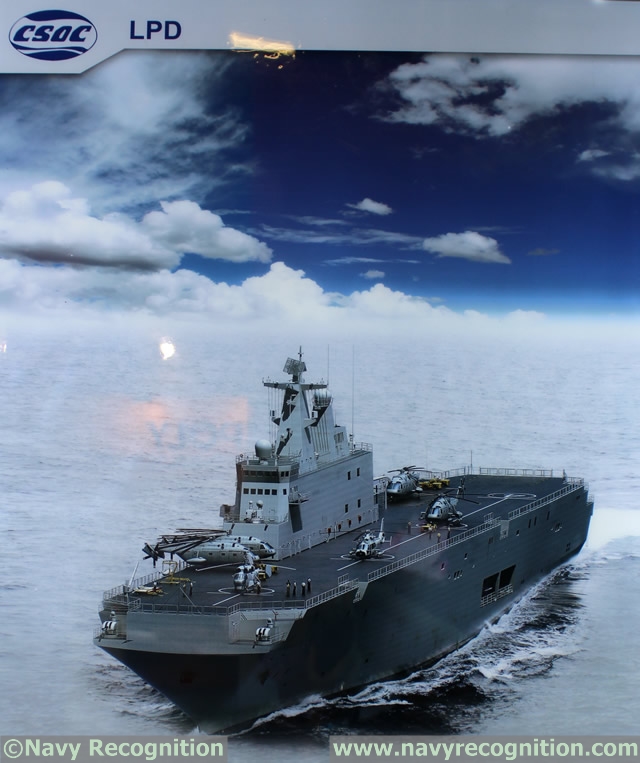 Poster showing an LHD design on CSOC (China Shipbuilding & Offshore International Company) stand during AAD 2014 in South Africa
An article published on an official website of the Shanghai communist party mentions a company, Hudong Heavy Machinery Co., LTD (member of CSSC China State Shipbuilding Corporation, the largest shipbuilding group in China) that has been contracted to built "16PC2-6B" diesel engines for a new project of amphibious assault ship. The French
Mistral class
and Japanese
Izumo class
are mentioned as well.
Here is the excerpt of interest in Chinese: " 他谈到,公司研发的16PC2-6B主要用于国家两攻项目,要和法国"西北风"号、日本"出云"号等同类型船用主机抗衡,任务艰巨,意义重大,体现了沪东重机为海军装备提供永恒动力的企业责任;;"
Here is the
link to the original article
(the link doesn't work anymore, it may have been taken down).
Update 04/12/2015: The four 16PC2-6B Diesel Engines on order for the LHD are upgraded engines based on 16PC2-6A powering the Type 071 LPDs. They are in turn an upgraded variant of the Type 903 AOR's 16PC2-6 diesels.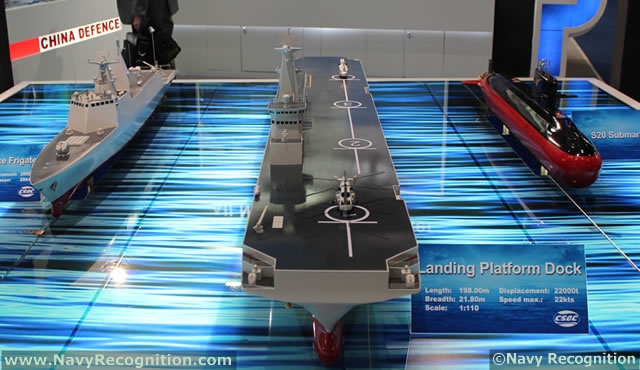 LPD/LHD scale model on CSOC stand during IDEX 2013 in the UAE
Open source information on the future PLAN amphibious assault ship is limited at best. From what is available today (and based on rumors), the class is likely to be called Type 75 with a standard displacement of 35,000 tons. In comparison, a French Mistral class displaces around 20,000 tons and a US Wasp class displaces around 40,000 tons. Based on the Chinese article, the vessel will likely be built in Shanghai at Hudong-Zhonghua Shipbuilding, a wholly owned subsidiary of CSSC.


LPD/LHD design for export

Navy Recognition saw Chinese LHD designs in the past while we were covering international defense shows. At AAD 2014 last year in South Africa, the CSOC stand
featured an LHD design
called "LPD". And during IDEX 2013 in the UAE, we interview a representative about the LHD/LPD basic specifications. Read our article
at this link
to learn more about the specifications of the vessel.