a
Naval Industry News - Russian
Russia's Iceberg Design Bureau Developing Several Nuclear-Powered Icebreakers
The Iceberg Design Bureau is going to deliver three Project 22220 nuclear-powered icebreakers before 2020. It also is designing other advanced nuclear-powered icebreakers, Iceberg Director General/Chief Designer Alexander Ryzhkov told TASS on Thursday.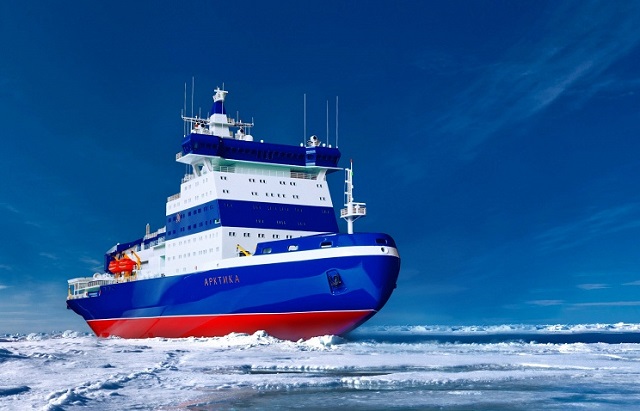 Artist impression of nuclear powered icebreaker "Arktika" (project 22220)
Image: Atomflot
"The Baltic Shipyard is building Project 22220 nuclear-powered icebreakers. Three are planned for delivery to the Atomflot federal unitary company before 2020. They are unique ships equipped with an advanced one-piece nuclear reactor, a sophisticated steam turbine plant, a new electric propulsion system and automatics. The icebreakers can adjust their draught from 8.5 m to 10.5 m, which enables them to operate both on the Northern Sea Route and in the outfalls of Siberian rivers," Alexander Ryzhkov said.

With its maximum draught standing at 10.5 m, the Project 22220 icebreaker will be able to cut through ice 2.8-3 m thick and, thus, operate in the east of the Arctic all through the year.

Owing to their advanced solutions, the Project 22220 icebreakers can replace as many as two icebreaker classes - the Project 10521 seagoing icebreakers (Yamal, 50th Anniversary of the Victory) and Project 10580 shallow-draught ones (Taimyr, Vaigach).

In addition, Iceberg is developing the Project 20870 Academician Lomonosov floating nuclear power-generating unit planned for use as part of the floating nuclear power plant in the settlement of Pevek (Chukotka Autonomous District). The design is unique, with nothing like it worldwide. Alexander Ryzhkov added that the power plant was to work for 40 years at the least.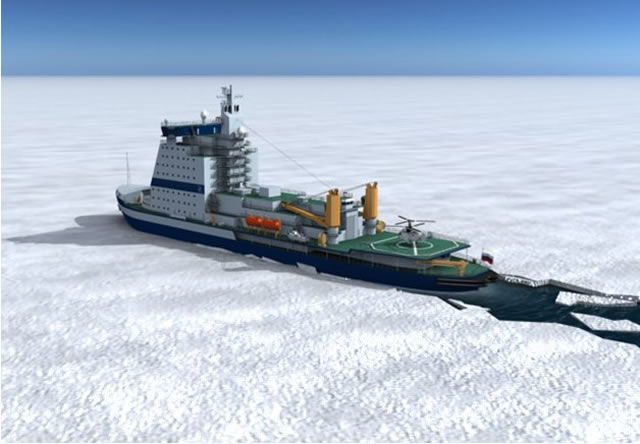 Concept image of icebreaker project 22220 (LC-60YA)
(Picutre: Soliday / JSC «OKBM")
Iceberg also is designing the world's most capable Project 1-510 nuclear-powered icebreaker designated as Ledokol-Lider (Icebreaker Leader). According to Ryzhkov, "the icebreaker's power is 120MW and maximum icebreaking capability is 4.3 m, and when ice is 2 m thick, the ship can lead convoys at over 11 knots, thus ensuring the cost-effective passage via the Northern Sea Route." Owing to the Leader, the Northern Sea Route may turn into a continuously operational thoroughfare. Convoys will be able to pass on schedule irrespective of weather and ice. The leading icebreaker will be indispensable for the transporting of hydrocarbons from the oil and gas fields in Yamal to Asia Pacific customers.

The blueprint design of the icebreaker has been devised in cooperation with the Krylov State Research Center and tests have been conducted in an ice model basin. The engineering design is expected to be worked out between 2016 and 2019, with the ship to be delivered by 2024.

Another icebreaker class being designed by Iceberg is the 40MW Project 10570 multirole offshore nuclear-powered icebreaker. Its design embodies the standardized basic platform concept, and a number of variants featuring identical layouts, hulls, power plants, propulsion/steering units, Dynpos-2 dynamic positioning systems, etc. have been looked into. The concept allows developing icebreakers capable of a wide range of offshore tasks in the Arctic based on commonized design solutions, which will allow a design and construction cost reduction.

The commonized platform can spawn a number of icebreaker derivatives, e.g. a multirole shallow-draught nuclear-powered icebreaker, resupply icebreaker, resupply icebreaker capable of towing and anchor handling, underwater oil and gas production facility maintenance and repair icebreaker, hydrocarbon well stimulation icebreaker and hydrocarbon exploration seismic survey icebreaker.

A particular outfit of each of the variants can be specified in greater detail at the customer's request.
"The Krylov center and we are going to start working on the detail design of the icebreaker in the near future," Iceberg's head said.

Project 22220 Nuclear-powered Icebrakers are set to become the largest and most powerful icebreakers in the world. The length will be 173.3 meters with a width of 34 meters and draft of 10.5 meters. Projected tonnage is 33,540 tons. It will be fitted with two RITM-200 pressurized water reactors for a capacity of 175 MW.

© Copyright 2015 TASS. All rights reserved. This material may not be published, broadcast, rewritten or redistributed.