a
Naval Forces News - Russia
Russian Navy Project 667BDRM Delfin Delta-IV Verkhoturye SSBN Launched Sineva Ballistic Missile
The Project 667BDRM Verkhoturye nuclear-powered ballistic missile submarine (SSBN, NATO reporting name: Delta IV-class) launched a Sineva missile from the Barents Sea to the Kura missile range in Kamchatka, the Russian Defense Ministry said in a press release.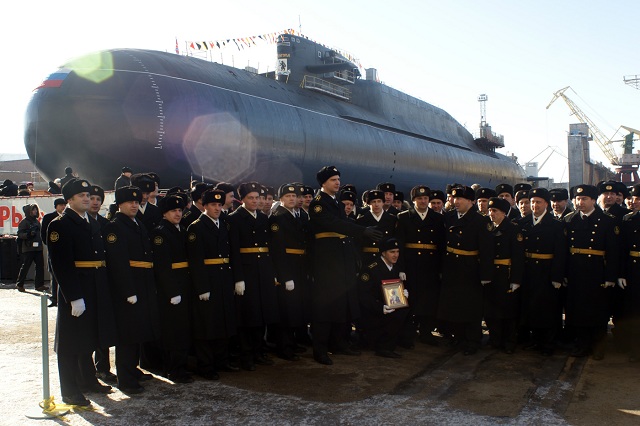 Russian Navy Verkhoturye SSBN (Project 667BDRM Delfin) following its refit in November 2012
(Picture: http://kuleshovoleg.livejournal.com/34689.html)

"The Northern Fleet's Verkhoturye strategic missile submarine under the command of Capt. 1st Rank Dmitry Zelikov launched a Sineva submarine-launched ballistic missile from the Barents Sea to the Kura missile range in Kamchatka on December 12," the Defense Ministry said in its news release.

The K-51 Verkhoturye SSBN is the Project 667BDRM lead ship. The Sevmash Shipyard in Severodvinsk had built seven SSBNs of the class from 1980 to 1992. The lead ship was commissioned for service with the Navy in 1985. There were six Project 667BDRM SSBNs in the Navy's inventory in late 2011 - K-51, K-84, K-114, K-117, K-18 and K-407. All of them underwent medium repair and upgrade by the Zvyozdochka Shipyard in Severodvinsk and had their service lives extended by 10 years - the K-51 Verkhoturye in 1999, K-84 Yekaterinburg in 2003, K-114 Tula in 2006, K-117 Bryansk in 2008, K-18 Karelia in 2010 and K-407 Novomoskovsk in 2011. Five submarines remained operational in early 2013, because the K-84 Yekaterinburg has been in repairs following the fire in the dock on December 29, 2011. It is due back in 2015.

© Copyright 2015 TASS. All rights reserved. This material may not be published, broadcast, rewritten or redistributed.