a
Naval Industry News - Austal
Austal to Build Two More Cape Class Patrol Boat for Australian Customs and Border Protection
Austal Limited (Austal) is pleased to announce it has entered into a shipbuilding contract with the National Australia Bank to construct two further Cape Class Patrol Boats. The contract value is $63 million. The two vessels will be delivered to the National Australia Bank in mid-CY2017 and subsequently chartered to the Commonwealth of Australia (Department of Defence) for a minimum term of three years. Austal has successfully employed a similar off balance sheet charter of defence ships through the charter of Westpac Express to the US Navy for 13 years.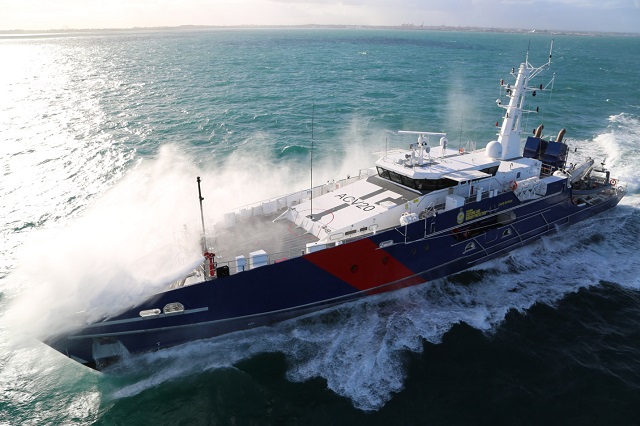 Cape Class Patrol Boat - Cape Byron

The vessels will also be sustained by Austal in accordance with the in-service support offering provided to the 8 existing Cape Class Patrol Boats designed and constructed by Austal and owned by the Australian Border Force.

Austal is providing a residual value guarantee to the National Australia Bank, which may be exercised at the conclusion of the charter term. In the event that the Department of Defence returns the ships at the end of the charter and National Australia Bank exercises the residual value guarantee option, then Austal will purchase the vessels at a pre-agreed price.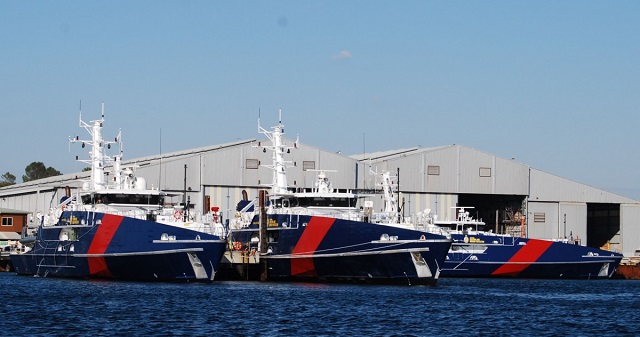 Cape Class Patrol Boats at Austal Australia in Henderson WA
Austal CEO Andrew Bellamy said the contract would take the fleet of Cape Class Patrol Boats to 10 vessels and reflected the quality and performance of the existing fleet of ships Austal recently delivered on time and on budget.

"It is also a terrific vote of confidence in Austal and the products we design, build and sustain at our Henderson shipyard in Western Australia. As Australia's only ASX-listed prime contractor we are very well positioned to support the Commonwealth in its future continuous ship building plans," Mr Bellamy said.

Austal is also contracted to deliver two High Speed Support Vessels to the Royal Navy of Oman from its Henderson shipyard.

"The two corvette-sized vessels we are building at our Australian shipyard for export to Oman next year are progressing well and demonstrate that Austal is internationally competitive when it comes to advanced manufacturing."