a
Naval Forces News - Russia
Keel of 7th Russian Navy Borei class SSBN Emperor Alexander III to be Laid Down on December 18
The Seventh Borei-class nuclear-powered missile submarine (Project 955A/Borei-A) - the Emperor Alexander III, for the Russian Navy, will be laid down at the Severodvinsk shipyard on December 18, Russian Defence Ministry's spokesman for the Navy Igor Dygalo said on Monday.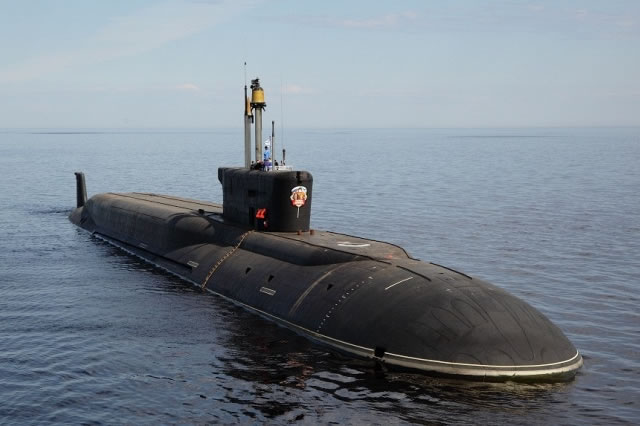 The Vladimir Monomakh is the third Borei class (Project 955) strategic ballistic missile submarine of the Russian Navy. Picture: Rubin Central Design Bureau for Marine Engineering
"The laying down ceremony of the Emperor Alexander III newest Borei-A project nuclear submarine will be held at the Sevmash shipyard in the city of Severodvinsk on December 18," the official said.

According to Dygalo, the ceremony will be attended by representatives of the Russian Defence Ministry top leadership, the Navy chief command, the Northern Fleet command and the White Sea naval base.

"The series of the fourth-generation nuclear-powered submarine cruisers of projects Borei and Borei-A, armed with the Bulava ballistic missiles, is to become the core of the Russian naval strategic nuclear forces for the coming decades," Deputy Commander of the Russian Navy Viktor Bursuk said.

Dygalo said that three Borei-A project submarines - the Knyaz Vladimir, Knyaz Oleg and Generalissimo Suvorov - are currently at different stages of building at the Sevmash shipyard.

The Russian Navy operates three Borei-class submarines, the flag ship Yury Dolgoruky, Alexander Nevsky and Vladimir Monomakh. The first two were commissioned in 2013, while the latest one is in active service since December 2014. The first submarine of the Project 955-A Borei-II class, dubbed Knyaz Vladimir, is expected to enter service in 2017. By 2020, the Russian Navy plans to operate a total of eight Borei class ballistic missile submarines, three Project 955 subs and five Project 955-A vessels. The Borei class submarines are expected to remain in service for decades to come, at least until 2040.