a
Naval Forces News - Russia, India
Delegation from Russia to Discuss Possible Supply of Second Akula-class SSN to Indian Navy

The Russian delegation will discuss the possible supply to the Indian Navy of an SSN with missile/torpedo armament similar the Project 971 (Akula class) nuclear-powered attack submarine Nerpa (renamed INS Chakra) handed over in 2012, said Victor Ozerov, chairman of the Federation Council Committee on Defense and Security.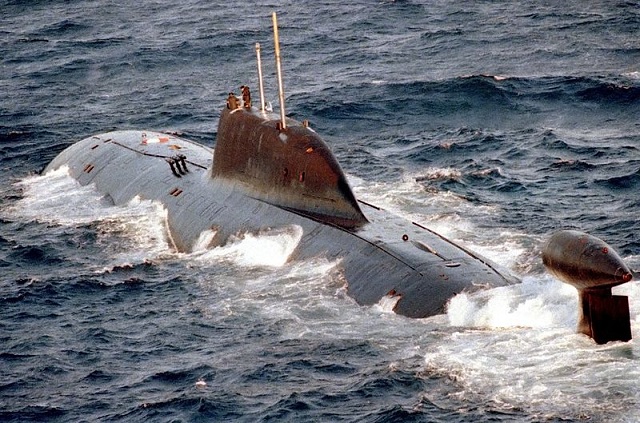 Russian Navy K-322 Kachalot, Akula class submarine underway. India may get the nuclear-powered submarine Kashalot. Picture: US DOD
"I won't conceal that our visit to India will be associated with talks on the supply of yet another submarine. Of course, I will use all the capabilities I have today," he said.

In late 2014 the Indian media reported that the country's navy decided to lease a second Project 971 nuclear-powered submarine from Russia. Subsequently, various sources confirmed to TASS that the talks did take place. However, in autumn 2015 Sergey Chemezov, the head of the Rostec state corporation /which incorporates Rosoboronexport/, declared that Moscow had not received a request to lease out the second submarine.

The sources pointed out that India may get the nuclear-powered submarine Kashalot deployed in 1988. Today it is under repair at the Amur Dockyard. In addition, as per unclassified sources, the company has a similar type nuclear-powered submarine whose construction started in 1994 but was soon suspended.

The third-generation Project 971 submarine was developed by the Malakhit Design Bureau in the 1970s-80s as an alternative to costly titanium-hull Sierra class vessels.

A total of 15 submarines were built from 1984 to 2001 at the Amur shipyard in Komsomolsk-on-Amur and at the Sevmash shipyard in Severodvinsk. It is not known how many of them are still in service, but one of the subs, the Nerpa, has been leased to India for 10 years under the name INS Chakra.

Akula class submarines feature very low acoustic signatures and can carry up to 12 submarine-launched cruise missiles with nuclear warheads and a range of 3,000 km (1,860 miles) in addition to anti-ship missiles and torpedoes.

© Copyright 2015 TASS. All rights reserved. This material may not be published, broadcast, rewritten or redistributed.