a
Naval Defense Industry News - USA
Third Lockheed Martin-Built MUOS Secure Communications Satellite Launched

The third Mobile User Objective System (MUOS) satellite built by Lockheed Martin for the U.S. Navy is now responding to commands after being launched yesterday. An initialization team, led by the company, is operating the MUOS-3 satellite from the Naval Satellite Operations Center located at the Naval Base Ventura County, Point Mugu, California.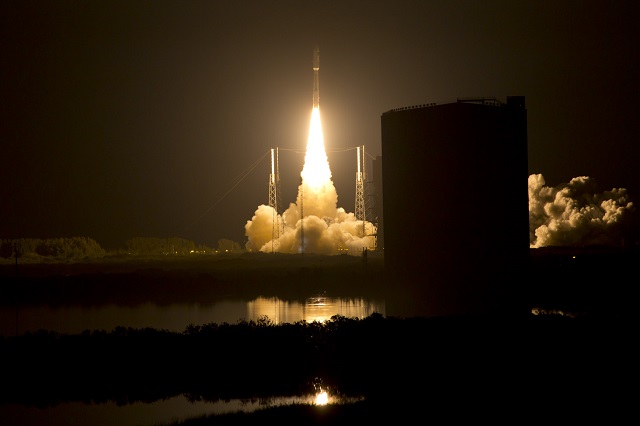 The U.S. Navy's third Mobile User Objective System (MUOS-3) satellite launched on January 20th aboard a United Launch Alliance Atlas V.
The MUOS satellite constellation operates like a smart phone network in the sky, vastly improving current secure mobile satellite communications for warfighters on the move. Unlike previous systems, MUOS provides users an on-demand, beyond-line-of-sight capability to transmit and receive high-quality, prioritized voice and mission data, on a high-speed Internet Protocol-based system.

"Thanks to the Atlas team for the safe delivery of MUOS-3 into our Geosynchronous Transfer orbit," said Iris Bombelyn, vice president of Narrowband Communications at Lockheed Martin. "We look forward to completing our on-orbit health checks and delivering this important asset to the U.S. Navy. The addition of this satellite will give the MUOS constellation coverage over more than three-quarters of the globe, further extending the reach of the advanced communications capabilities MUOS will provide our mobile warfighters."

MUOS-3 launched at 8:04 p.m. EST aboard a United Launch Alliance Atlas V rocket and will transition over the next nine days to reach its geosynchronous orbit location 22,000 miles above the Earth. The solar arrays and antennas will then be deployed, and on-orbit testing will start for subsequent turn-over to the Navy for test and commissioning to service.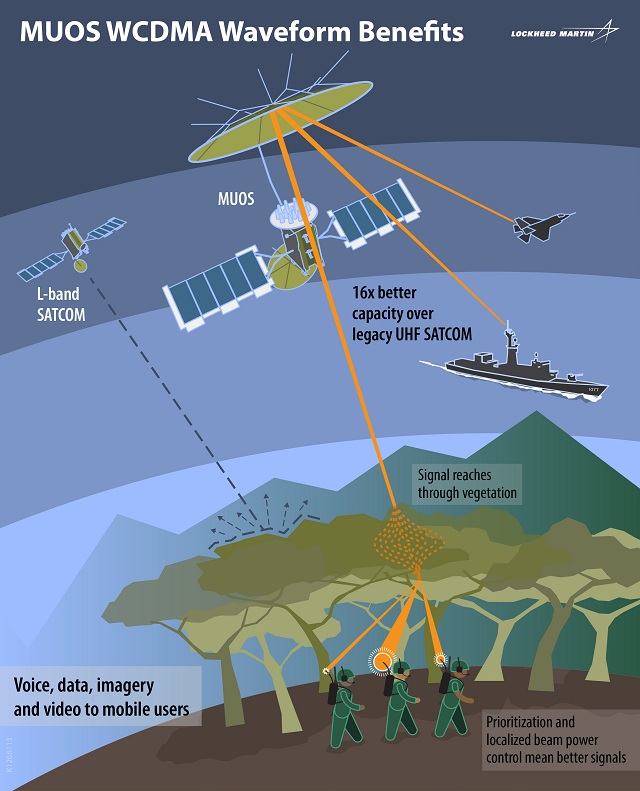 Earlier today, before the MUOS launch, Lockheed Martin employees visited six classrooms totaling about 280 seventh and eighth-graders at nearby Ronald McNair Magnet Middle School in Rockledge, Florida, to demonstrate important principles of space engineering through a hands-on activity and to encourage science, technology, engineering and math (STEM) education. Six members of the school's science department and faculty later attended the launch viewing.

MUOS is the Navy's next generation secure mobile satellite communications system which will eventually replace the legacy Ultra High Frequency (UHF) Follow-On system. MUOS satellites have two payloads to ensure access to UHF narrowband communications as well as new capabilities. MUOS' advanced Wideband Code Division Multiple Access (WCDMA) payload incorporates commercial technology and a new waveform to provide users priority-based capacity.

Once fully operational, MUOS will provide 16 times the capacity of the legacy system. More than 50,000 terminals that are in the field today can be retro-fitted with WCDMA.

Prior to its launch, the MUOS-3 satellite was built at Lockheed Martin's Sunnyvale, California, manufacturing facility. The satellite was shipped to Cape Canaveral Air Force Station on Nov. 5, and encapsulated into its launch fairing on Dec. 18.

The MUOS constellation is expected to provide warfighters full global coverage before the end of 2015. MUOS-1 and MUOS-2, launched respectively in 2012 and 2013, are already operational and providing high-quality voice communications. MUOS-4 is on track to launch later this year. The fourth and final required MUOS ground station also is expected to be delivered to the Navy early this year.