a
Naval Defence Industry News - USA
DRS to Upgrade US Navy and RAAF EA-18 Growler with New JTT-R System
DRS Technologies Inc., a Finmeccanica Company, announced today that it has been awarded access to an indefinite-delivery/indefinite-quantity contract for the production and delivery of up to 180 Joint Tactical Terminal-Receivers (JTT-R) for U.S. Navy and Australian EA-18G aircraft. The contract is valued up to $12 million and will include JTT-R production engineering, test set racks, fixtures and tooling.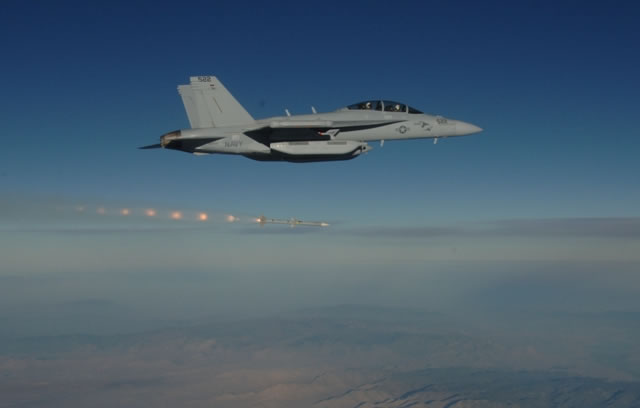 The EA-18G Growler is an electronic attack aircraft (picture: US Navy)
The JTT-R is an ultra-high-frequency receiver that provides near real-time, over the horizon threat data for situational awareness and assessment, threat avoidance, targeting, mission planning and communications.

The contract combines purchases for the U.S. Navy and the government of Australia, under the Foreign Military Sales program. The Naval Surface Warfare Center, Crane Division, in Indiana is the contracting agency.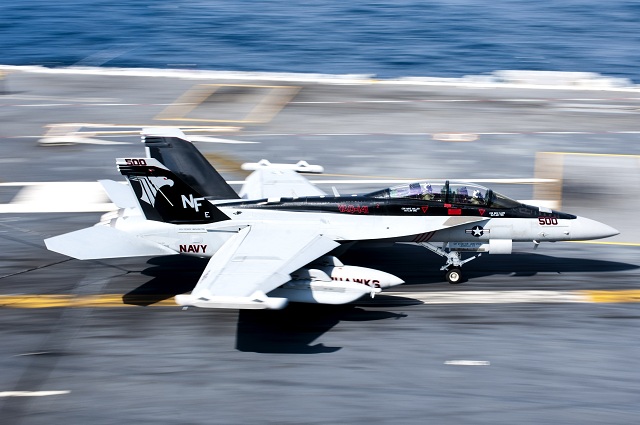 An EA-18G Growler from the "Shadowhawks" of Electronic Attack Squadron (VAQ) 141 is stopped by an arresting gear wire after landing aboard USS George Washington (CVN 73)
(picture: US Navy)
DRS has been developing the JTT-R system since 2009 for the Navy's E/A-18G "Growler" as a replacement to the legacy Multi-mission Advanced Tactical Terminal, which is nearing its end-of-life with the impending transition to the common interactive broadcast waveform. The U.S. Navy's EA-18G "Growler" is a variant of the combat-proven F/A-18F Super Hornet Block II that conducts Airborne Electronic Attack (AEA) missions.

"We are proud to provide this key intelligence capability to the U.S. and Australian EA-18G fleets," said Sally Wallace, president of the DRS Technologies C4ISR business group. "Its critical threat, targeting and mission planning data provides improved communications for delivering a distinct advantage to U.S. Navy and Australian "Growler" aviators flying the most advanced naval airborne electronic attack platform in the world," Wallace added.

The EA-18G Growler, is an electronic attack aircraft combining the newly developed jamming capability upgrades of the EA-6B Prowler with the tactical versatility, advancements and capabilities of the Block II Super Hornet.

F/A-18 Hornets, Super Hornets and EA-18G Growlers currently operate in forty-three (43) U.S. Navy and eleven (11) U.S. Marine Corps Strike Fighter and Electronic Attack Squadrons from carriers and air stations worldwide. There are an additional fourteen (14) squadrons carrying out training, test, reserve and flight demonstration duties. In addition, international business customers include Canada, Spain, Finland, Kuwait, Malaysia, Switzerland and Australia, all who fly the F/A-18 Hornet. Australia has also purchased the F/A-18 Super Hornet and EA-18G Growler.