a
Naval Force News - Taiwan
ROC Navy commissioned its new fast combat support ship AOE 532 "Panshih"
The Republic of China (Taiwan) Navy (ROC Navy) took delivery of a new locally designed fast combat support ship AOE 532 "Panshih" (nammed after a mountain in eastern Taiwan) on January 23rd. Panshih is now the largest vessel of the ROC Navy.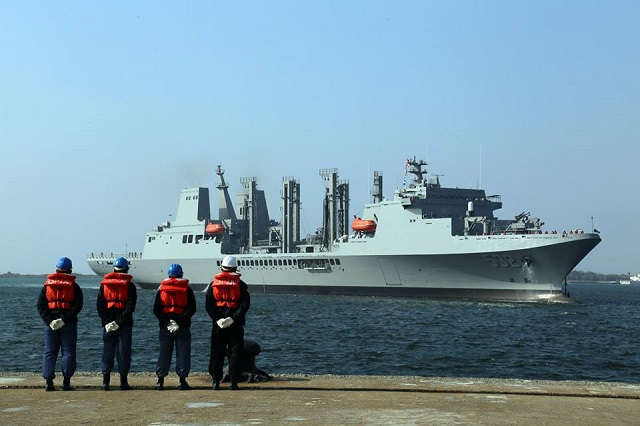 The Republic of China Navy Panshih Fast Combat Support Ship underway
following its commissioning
The vessel, fully designed in Taiwan, was laid down at the National Taiwan Shipbuilding Corporation (CSBC) shipyad in Kaoshiung in December 2012, launched in November 2013 and will be commissioned to the ROC Navy in 2015 following the trials at sea. The vessel is designed as an AOE, in accordance with the U.S. Navy hull classification system, which means it is a logistics ship that will supply oil, ammunition and stores to other ships in a battle group.

"Panshi" is 196 meters long with a beam of 25.2 meters and a draft of 8.6 meters. It has a full displacement of 20,859 tons and light displacement of 10,371 tons. . It has a range of 8,000 nautical miles, maximum speed of 22 knots and the capacity to carry a complement of 165 sailors.

The new ship will help boost Taiwan's combat capability, according to Chief of General Staff Kao Kuang-chi.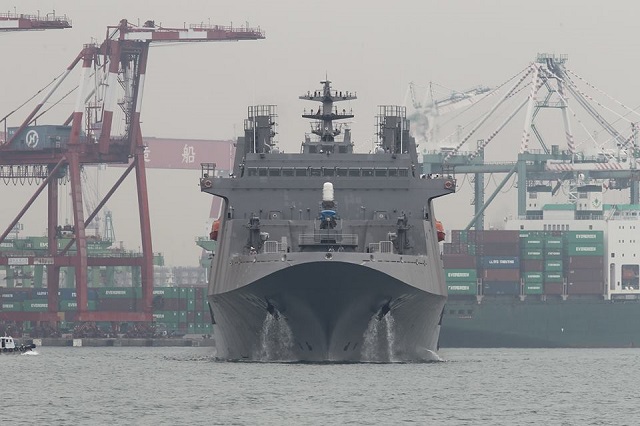 The Republic of China Navy Panshi Fast Combat Support Ship underway during sea trials
The large helicopter hangar provides permanent basing of up to three medium helicopters (CH-47SD and S-70C helicopters; or a US Navy CH-53E helicopter). The ship has been design to be able to simultaneously replenish two vessels at the same time.

Advanced medical facilities have been fitted inside, including treatment rooms, dental rooms, dental X-ray room, operating room, general ward, and a negative pressure isolation ward for infectious disease prevention and control.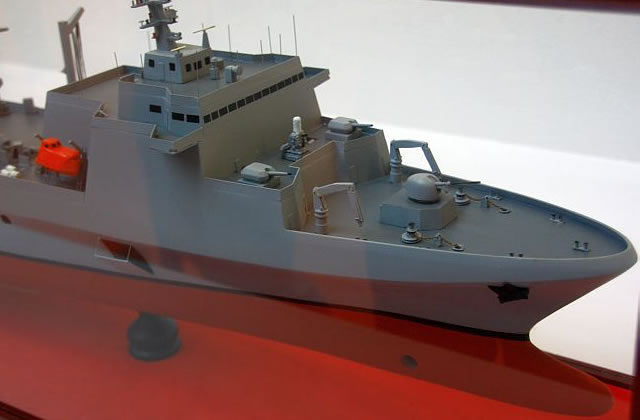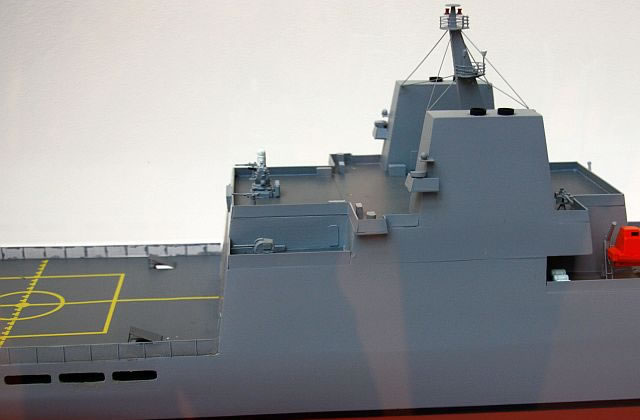 According to the original models, the class was set to receive a quite unusual heavy weapons fit for this type of vessel:
1x 76mm OTO Melara compact main gun
2x 20mm Phalanx CIWS
2x 35mm Rheinmetall Millenium guns
2x 30mm cannons turrets
and several .50 cal machine guns
The final weapons fit on Panshih differs slightly from what was expected based on the original scale model: The 76mm main gun was never installed. The ROC Navy opted for a RIM-72C Sea Chaparral (with 4x AIM-9 Sidewinder missiles) SAM system.